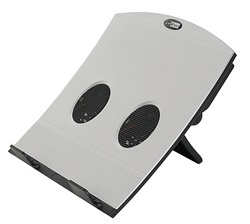 The goal is to relax neck, shoulders, arms and hands when typing and mousing.
RANCHO CUCAMONGA, Calif. (PRWEB) February 12, 2008
The cooling fans use a quiet, long-lasting hydraulic ball bearing system to keep air moving under laptops. Users first connect the included cable to a USB port, and then use an on-off power switch to operate the fans.
A sturdy, 12-7/8 inch base supports wide laptops, and two flip-down support arms hold laptops in place while inclined. Both the Attache and Envoy measure 12-7/8 inches wide x 11-3/4 inches long x 1-5/8 inches thick when folded closed. The Envoy weighs 1 pound, 10.5 ounces; the Attache weighs 2 pounds, 7.5 ounces with its aluminum face plate. Both laptop stands carry a one-year warranty.
"Raising a laptop's screen closer to eye level keeps you from craning your neck to see it, reducing strain on upper body and neck," said Jose Calero, LapWorks' president. "Angling the keyboard also allows arms and elbows to hang relaxed at your side, for more ergonomically comfortable typing than when set flat on a desk."
To set up a desktop docking station for a laptop, ergonomists such as Sally A. Longyear, CIE, MPH suggest:
-- Attaching a separate keyboard and mouse and placing them on a keyboard tray at a height that allows forearms to relax parallel to the floor.
-- Elevating the top of screen to straight-ahead eye level.
-- Placing the laptop close enough to see it without holding one's head forward.
An experienced leader in injury prevention, Longyear explains, "The goal is to relax neck, shoulders, arms and hands when typing and mousing." This illustration shows correct laptop-using posture on desks and laps.
Designed on the physics concept that heat rises, both the Attache and Envoy Laptop Stands reduce heat in several ways.
1) Their concave design creates an air space, called a convection cell, under the computer which allows the heat that radiates from the bottom of the laptop to escape upwards.
2) Fans blow cool air into the convection cell to cool the laptop and force the hot air out and up.
3) Finally, the aluminum face plate on the Attache absorbs any heat that the fans don't blow out and dissipates it across the face plate and into the air.
"Laptop overheating remains a problem as manufacturers squeeze more functions and processing power into increasingly smaller spaces to meet consumer demands," said Calero. "Some manufacturers even recommend a notebook cooling pad to dissipate the heat."
For mobile workers who need both a lap desk and a desk stand, LapWorks offers its flagship dual-purpose Laptop Desks, which:
1) Provide a wide, ergonomically-sound workspace across the lap.
2) Fold into a wedge-shaped laptop stand to incline a laptop on a desk.
3) Cool a laptop via built-in ventilation channels.
About LapWorks:
LapWorks Inc. develops and sells affordable, ergonomic portable computer lap desks and laptop stands that take the hassles and hazards out of mobile computing, and reduce the heat in laptop computers. LapWorks invented the wide-span portable lap desk product category in 2001, and is the only company making dual-purpose lap desks that double as desk stands. LapWorks Inc., 7955 Layton Street, Rancho Cucamonga, CA 91730; 909-948-1828; 877-527-9675; email: sales@laptopdesk.net; Web site: http://www.laptopdesk.net.
Note: Photos, a video and an illustration of correct laptop ergonomics are available: http://www.laptopdesk.net/press.html
"LapWorks" and "Laptop Desk" are trademarks of LapWorks(TM), Inc.