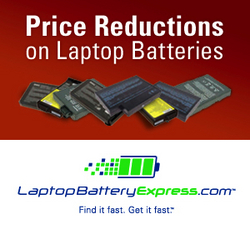 Our new price reductions are intended to help.
Grafton, OH (PRWEB) June 9, 2009
LaptopBatteryExpress.com today announced a new round of price reductions on replacement laptop batteries.
"People understandably cut back on spending in hard economic times. But, for many, a new laptop battery is a great way to economically extend the useful life of a current laptop computer", said Fred DuBois, President of LaptopBatteryExpress.com. "Our new price reductions are intended to help."
LaptopBatteryExpress.com's new low pricing applies to laptop batteries for all notebook brands such as Dell laptops, HP, Gateway, Lenovo, and Apple. Also included are laptop batteries for hard-to-find brands including Averatec, Asus and Panasonic laptops. All laptop batteries sold by LaptopBatteryExpress.com use only the highest quality cells, and are backed with a full 1-year warranty.
About The Company
LaptopBatteryExpress.com, a unit of Digital Day, Inc., provides replacement and extended run external laptop batteries as well as computer accessories. The correct replacement batteries for a specific laptop can be found in just 2 clicks. 2nd Day delivery is guaranteed.
###