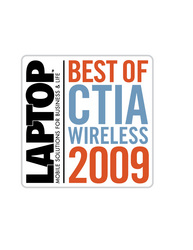 New York, NY (PRWEB) February 11, 2009
LAPTOP--Mobile Solutions for Business & Life, the leading mobile technology magazine and Web site, and a sponsor of the CTIA Wireless 2009, today issued an invitation to exhibitors to submit products for its annual Best of CTIA Wireless Awards.
LAPTOP's Best of CTIA Wireless Awards honor the most compelling wireless devices and applications announced or shown at the wireless communications event of the year. Editors will be looking for the groundbreaking products that enhance the end user's mobile experience through innovations in design and functionality. LAPTOP has also added more application categories to the awards, recognizing the increased significance of wireless apps in enhancing the mobile life of both consumers and business users.
The Best of CTIA Awards will honor the top products in the following categories:

Overall Product
Smart Phone
Multimedia Phone
Messaging Phone
Netbook/Mobile Internet Device
Accessory
Business Application
Mobile Lifestyle Application
Music/Video Application
Location-Based Application
Social Networking Application
Mobile Game
To submit a device or application to be considered for LAPTOP's Best of CTIA Awards, visit Best of CTIA Submission Form and complete the submission form.
Products and/or applications must be announced or shown for the first time in public during CTIA Wireless 2009 to be eligible. The deadline for submissions is 11:59 p.m. (EST) on March 20, 2009. LAPTOP will honor nondisclosure agreements, which can be included in the submission process. Entries will be evaluated based on the submitted materials as well as the editors' hands-on experience with the product at CTIA Wireless 2009.
All of LAPTOP's CTIA Wireless 2009 coverage, which will include pre-show predictions, product blog posts, and hands-on videos from the show floor, as well as the Best of CTIA Awards, will be featured on LAPTOP's CTIA Wireless 2009 Section, beginning March 27, 2009. Best of CTIA Award winners will be announced April 3, 2009.
About LAPTOP Magazine & Laptopmag.com
LAPTOP--Mobile Solutions for Business & Life celebrates the infusion of mobile technology in our daily lives and provides the information and insights that enable its readers to thrive in a wireless world. It serves as the essential guide for mobile professionals and tech-savvy consumers who depend upon our expert product evaluations, helpful how-to advice, and examination of the societal impact of mobile technology.
Visit http://www.laptopmag.com.
For Further Information:
Liz Moran
Marketing Director
LAPTOP Magazine
212-807-8220
###