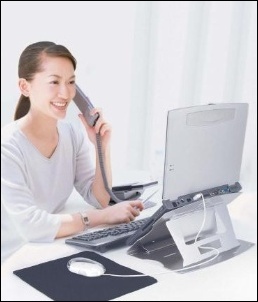 Angling the keyboard also allows arms and elbows to hang relaxed at your sides, for more ergonomically comfortable typing than when set flat on a desk.
RANCHO CUCAMONGA, Calif. (PRWEB) April 4, 2007
Constructed of heat-dissipating brushed-aluminum, the sturdy Aluminum Desktop Stand is also portable, weighing 1 pound, 5 ounces and folding flat and thin (12 x 9.5 x 3/8 inches) for easy storage in a computer bag. The laptop stand also includes non-skid rubber pads to grip the laptop, a built-in turntable for 360 degree rotation and screen-sharing, a neoprene travel bag/slip cover which doubles as a mouse pad, and it carries a one-year warranty.
"Raising a laptop's screen closer to eye level protects you from holding your head forward to see it, reducing strain on your upper body and neck," said Jose Calero, LapWorks' president. "Angling the keyboard also allows arms and elbows to hang relaxed at your sides, for more ergonomically comfortable typing than when set flat on a desk."
To correctly set up a laptop as a desktop workstation, ergonomists such as Sally A. Longyear, CIE, MPH recommend:
-- Attaching a separate keyboard and mouse and placing them on a keyboard tray at a height that allows forearms to be parallel to the floor.
-- Elevating the top of screen to straight-ahead eye level.
-- Placing the laptop close enough to see it without holding head forward.
An experienced leader in injury prevention, Longyear explains, "The goal is to relax neck, shoulders, arms and hands when typing and mousing." This illustration shows correct laptop-using posture.
A thermal study conducted for LapWorks by the California Polytechnic University at Pomona concluded that the Aluminum Desktop Stand reduces heat build-up by virtue of its heat-absorbing aluminum as well as the incline which allows heat to escape. As an example, a laptop placed on the Aluminum Desktop Stand on its highest incline ran 27 degrees cooler (88 compared to 115 degrees) than the same laptop set flat on a desk. "Most heatsinks which are attached to microprocessors to keep them from overheating are made of aluminum because of its ability to absorb and dissipate heat into the air," explained Calero. "The thinner the aluminum the better the process works."
LapWorks will continue to offer its flagship dual-purpose Laptop Desks, which:
1) Provide a wide, ergonomically-sound workspace across the lap.
2) Fold into a wedge-shaped laptop stand to incline a laptop on a desk.
3) Cool a laptop via built-in ventilation channels.
About LapWorks:
LapWorks Inc. develops and sells affordable, ergonomic portable computer lap desks and laptop stands that take the hassles and hazards out of mobile computing, and reduce the heat in laptop computers. LapWorks launched a new personal technology product category with the industry's first dual-purpose lap desk that doubles as a desktop stand. LapWorks Inc., 7955 Layton Street, Rancho Cucamonga, CA 91730; 909-948-1828; 877-527-9675; email: sales@laptopdesk.net; Web site: http://www.lapworks.net.
Note to editors: Product photos and an illustration of correct laptop ergonomics are available from the online press room.
"LapWorks" and "Laptop Desk" are trademarks of LapWorks(TM), Inc.