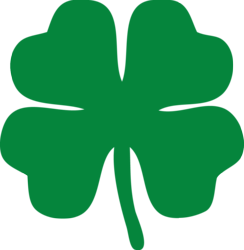 Fort Lauderdale, FL (PRWEB) February 28, 2013
It's St. Patty's Month Lads!!! Get out the green hat, find a pot O' gold and start your shenanigans for the big day. It's that time of the year for a wee bit o' fun. The Macdecals.com team has dug deep and let their inner Irish out for the month of March. The spirit of St. Patrick's Day fills the team at Macdecals team and has inspired them to give away a free lucky 4-leaf clover laptop stickers with every order.
"For the holidays there were snowmen, on Valentines day, all the love birds received pretty red hearts and now we are sending all the little leprechauns green 4 leaf clover laptop stickers for good luck," says Bryan Loconto co-founder of Macdecals.com. "Macdecals wants to see customers happy with their orders and throwing in a little something extra will certainly do that."
This Promotion begins with all orders received on March 1st 2013 and will last all month long. To receive the latest promotions follow us on Twitter and like us on Facebook.
Macdecals.com wants to wish everyone a safe and fun St. Patrick's Day, and remember don't Drink and Drive.
About Mac Decals
Founded in 2011, Mac Decals offers more than 200 original decals and gives customers the ability to create their own. Mac Decals products are made with a high quality vinyl material that not only protects devices from scratches and blemishes, but also gives them a unique, cleaner look and feel. Decals and skins are available in multiple sizes for multiple devices, and have a range of designs aimed at various individuals such as: gamers, movie aficionados, music lovers, businesses, and many more. For more information on the product or to go order online, visit http://www.macdecals.com