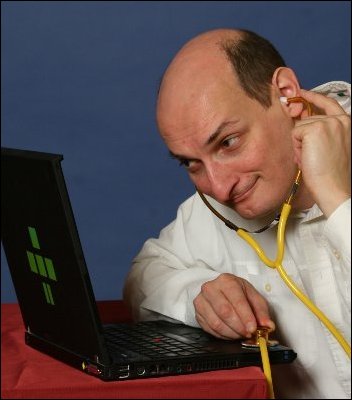 Also a keyboard which caption has become hackneyed and keys worn out can be easily replaced with the tips from the keyboard section.
(PRWEB) March 1, 2007 –-
While some do it yourself types enjoy home improvement projects, others get the same thrill when they have a notebook upgrade to work on. A premier source for digital do-it-yourselfers, Repair4Laptop.org marks two years online. Comprised of guides submitted by computer users and enthusiasts the site, a comprehensive online guide for laptop upgrade and notebook repair compiled by Werner Heuser, currently houses over 1,000 separate articles, covering all aspects of laptop repair, laptop cleaning and custom modifications.
"Repair4Laptop caters to all levels of users, from amateurs to hardcore laptop enthusiasts," said Werner Heuser, a leading German figure in the Linux community. "We try to help laptop owners become more independent, not relying on software developers or repair shops."
There are a number of good reasons why a laptop manufacturer might need to attempt a repair on their own. After the warranty expires, repairing a laptop or notebook is often expensive. Some users might even find that their laptop manufacturers has gone broke. If a laptop has to be delivered to the manufacturer for warranty service, it often takes a long time to get the machine back in working order. And while some users might like to repair a broken laptop on their own, without a good guide repairing a laptop can become impossible. Very few manufacturers provide appropriate service manuals for free.
If such a guide is missing Repair4Laptop.org comes to the rescue, providing links to free repair and upgrade guides for laptops and notebooks. The appropriate guide can be found either by laptop manufacturers or by laptop parts. The quality of the guides and HOWTOs ranges from simple picture galleries showing the stages in the disassembly of a laptop to affectionately written step-by-step repair instructions.
Besides repair guides there are also upgrade manuals for installing new memory or a new hard disk.
"Upgrading RAM or a hard drive are cheap ways to enhance the performance of an older laptop," Heuser said. "Often replacing of these parts is easy. But a good guide is always helpful."
Cleaning is an important, but too often overlooked, aspect of laptop ownership.
"If you want to use your laptop for many years, you have to give it good care. The recommendations for cleaning laptop fans have prevented some laptops from dying by overheating," Heuser said. "Also a keyboard which caption has become hackneyed and keys worn out can be easily replaced with the tips from the keyboard section."
A completely different facet is covered in the section on modding laptops and notebooks. Modding turns a dull standard laptop into a unicum. Popular modding techniques are painting of the lid and the replacement of the manufacturer logo with a personal logo. As a side effect a personalized laptop is well protected against theft, because a remarkable design makes it almost impossible to resell the laptop.
This section is even useful to laptop users far from the cutting edge.
"And even if upgrading an old laptop one day finally doesn't make sense anymore, you don't need to put it in the trash. Converting it to a digital picture frame will give it a second life," Heuser said.
Another way to get a customized laptop is to build one from a bare bones construction set. This approach makes it possible to customize each component to meet individual needs. Some people have even built a completely customized laptop or Tablet PC from scratch. All have used guides available at Repair4Laptop.org.
The hardware parts section lists all repair guides by parts. The biggest part of this section offers guides to customize Wireless LAN equipment. Do-it-yourself guides explain how to fit a miniPCI wireless LAN or Bluetooth card into a laptop are provided as well as HOWTOs for the upgrade of internal or external wireless antennas and access points. Another section offers disassembly manuals, pictures and videos covering repairing and replacing of LCDs displays. Besides motherboard repairs, replacing an LCD often can become the most expensive repair issue of a laptop. Still other sections cover mobile CPU overclocking, hacking and replacement, graphics card upgrade, optical drives (CD, DVD) replacement, keyboards issues like cleaning a dirty keyboard, and replacing a broken keyboard, repairing power supplies and maintaining main and CMOS batteries.
Also repairing and do-it-yourself construction of laptop accessories is covered. The projector section gives a survey of selfmade projectors giving a new live to an old LCD display or overhead projector. Also you will find HOWTOs to make custom bags and backpacks, cheap sun shades and stands for your laptop or notebook.
Real geeks can go beyond laptop repair and search a fine selection of books for do-it-yourself repair geeks.
About Repair4Laptop.org
Repair4Laptop.org was founded in March 2005 by Werner Heuser. Shortly after he founded the site, Werner Heuser became a technical editor for the second issue of Upgrading and Repairing Laptops by Scott Mueller. Werner Heuser is addicted to portable computers even more. Besides Repair4Laptop.org he maintains the TuxMobil project. TuxMobil is one of the most popular resources online, providing Linux installation guides for laptops and notebooks.
###