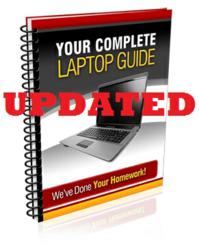 Potential buyers can download this popular Laptop Buyer's Guide to receive helpful information and valuable discount coupons.
(PRWEB) April 22, 2013
Recently the popular Laptop Buyer's Guide on LaptopComputerGuide.org was updated to reflect the latest offerings and information related to buying a laptop in 2013. Potential laptop buyers can download this free guide in PDF form and receive follow-up emails with handy information everyone should know before purchasing a laptop or desktop computer.
In addition, users of this guide will receive access to the latest online discount coupons from major manufacturers such as Dell, HP, Toshiba, Sony, Alienware... these coupons are updated daily or whenever new ones are introduced. Buyers can save $100's off the retail price, get upgrades or take advantage of shipping discounts.
As we all know, laptop and computer technology is changing at a blistering pace, keeping up with all these latest innovations can be time consuming and somewhat challenging. It's helpful to have a basic understanding of all these computer terms and specifications before one buys online or faces a pushy salesperson at your local computer store.
That's where the LaptopComputerGuide.org site steps in and provides a helpful solution for potential buyers. The handy guide is run in conjunction with Bizwaremagic.com, an eleven year old marketing and business solutions site. Over the years, this guide has proven very popular with consumers and has been downloaded thousands of times.
This special Laptop Buyer's Guide can be downloaded from here: http://www.laptopcomputerguide.org All products/companies mentioned above are registered trademarks of their respective owners and companies.