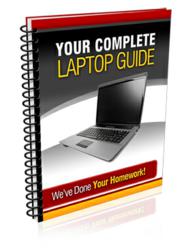 The Laptop Guide updates its channel to better reflect the new "look and feel" of YouTube.
(PRWEB) April 27, 2012
Recently, the Laptop Guide channel on YouTube was automatically updated to accept the new universal YouTube design and format. YouTube members no longer have the option of keeping the old layout, which could be adjusted and customized in terms of fonts, text, colors and many other beloved features. All YouTube users and channel owners have to adjust their channels to the new "look and feel" of YouTube.
Actually, this new design was created via user feedback from the "Cosmic Panda" channels and watch experiment. The new format was intended to give all YouTube channels an overall "consistency" throughout the popular video sharing site. The front page of YouTube also received a major overhaul and look to comply with the new more modern design.
The Laptop Guide channel, which features informative videos on such topics as gaming notebooks and laptop reviews, had to change some of its listings to reflect the new design. It also added a favorite videos listing, as well as a listing for the most viewed videos. In addition, the new changes now include a Twitter link so viewers can keep in touch with the channel on Twitter.
"While the web designer in me, can easily see how the new format makes all the channels and pages more consistent," says Titus Hoskins, who runs the channel. "The artist in me, is still wondering why these designers picked such drab, grey muted life-less colors for one of the most vibrant communities on the web - go figure!"
However, regardless of these new changes, the Laptop Guide channel will be offering new videos in the future and YouTube still remains one of the premier sites for distributing information on the web.
One can find the YouTube channel here: http://www.youtube.com/user/laptopguide Potential laptop buyers can also download our free guide here: http://laptopcomputerguide.org