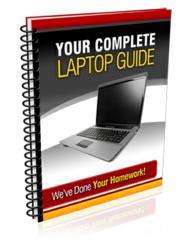 Laptop Buyer's Guide updates its web pages to make it very easy for visitors to bookmark its content in all the social media networks.
(PRWEB) March 15, 2012
Recently, LaptopComputerGuide.org, a comprehensive laptop buyer's guide, got a major social media upgrade. The five year old site now makes it extremely easy for its visitors to bookmark content in all the important social bookmark sites. These social networking sites include Facebook, Twitter, Pinterest, Linkedin, Google+ and many more.
In addition, a hovering bookmark is now presented in the viewing frame at all times, so visitors can easily and quickly bookmark the pages without having to search for the buttons. These bookmark buttons are now featured front and center, making it very convenient for viewers to share the laptop content with friends and colleagues. Content dealing with laptop purchasing advice, such as choosing the right student laptop or choosing the right gaming laptop.
LaptopComputerGuide uses the handy free "Sharethis" service to facilitate the bookmarking process. Sharethis is a well recognized social bookmarking platform so visitors will be very familiar with how to use these buttons. In a matter of seconds, content can be shared or bookmarked in all of the major social networks.
The Laptop Guide site also features the Pinterest button and network. Pinterest is one of the newest social networks but according to many experts, this new picture/image sharing network is slated to be the breakout site of 2012. Already, Pinterest is racking up records, according to an online Huffingtonpost article, Pinterest hit 10 million monthly views faster than any other site in history.
LaptopComputerGuide.org is looking forward to further emphasizing all of its future pages with these social bookmark buttons and sites. With the ultimate goal of delivering its handy free computer and laptop guide to a much wider audience.
About Us: LaptopComputerGuide.org was created in 2008 to give computer and laptop buyers a free handy guide which they can use to find the right computer to meet their needs. The guide also provides money saving coupons and laptop deals from all the different manufacturers. All products/companies mentioned above are registered trademarks of their respective owners and companies.