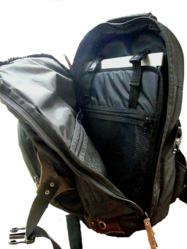 Las Vegas, NV (PRWEB) April 01, 2013
Laptopbackpacksource.com has expanded their selection of laptop bags and carrying cases by adding products from over ten additional top manufacturers to their product range. Manufacturers including Chameleon Gear, iLuv, Just Air, LapGear, Manhattan, Ogio, PC Treasures, Speck Products, Sumo, TRENDnet and Tripp Lite provide even more high quality laptop transportation solutions to an already broad range.
Like the rest of the laptop bags and carrying cases available at Laptopbackpacksource.com, offerings from these manufacturers are made with high quality materials and produced to the highest standards for excellent durability. These products are also designed to be ergonomic. Utilizing external structures that are anatomically correct and have the right amount of padding in the correct locations ensures all day comfort.
Industry leading manufacturers such as Targus, Case Logic, Mobile Edge, HP and Microsoft along with the additional manufacturers mentioned above offer laptop transportation solutions to accommodate any budget. All the products available at Laptopbackpacksource.com are competitively priced and combined with low shipping rates provide great deals with excellent service.
About Laptopbackpacksource.com:
Located in Las Vegas, NV, Laptopbackpacksource is a division of MWB International, LLC and was founded in 2007. Opening a retail store specifically for laptop backpacks and carrying cases came from a realization that our founder, Matthew C. Warren, had during his business travels. Originally Matthew brought his laptop along with him in a rolling suitcase, but after arriving at his destination the suitcase was too large and awkward for local travel. Having a separate laptop backpack made it simple to bring his laptop anywhere, both as a carry-on bag for the airplane or during local travels, and still have the right amount of space for the rest of his belongings. As a result Laptopbackpacksource was started with one goal, to provide the largest selection of laptop transportation solutions in one place. For more information, call the toll free number at 1-877-982-9998 or visit http://www.laptopbackpacksource.com.