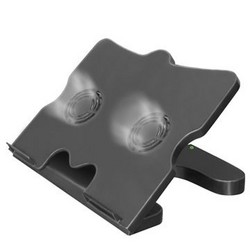 The COOLdock Laptop Stand offers eight levels of adjustable screen height tilt providing the ultimate in ergonomic comfort. It's really a state-of-the-art ugrade for your laptop, a real must have
Konawa, OK (PRWEB) August 18, 2007
In recent times overheating has been a hot topic for laptop users, with battery recalls from major manufacturers, including Dell, who recalled over four million batteries(1) due to risk of explosion and overheating defects, leaving many users in the lurch, and others feeling uneasy about the ongoing safety and reliability of theirs.
Introducing the COOLdock Laptop Stand -- an easy and cost-effective solution to help prevent the problems associated with overheating. Its unique inbuilt cooling fan system dissipates heat away from your computer. Better still it plugs directly into a USB port -- no mains power required. A cooler laptop reduces heat build-up, which extends battery life and processing speed.
"Not only will the COOLdock Laptop Stand keep your system cool, its ergonomic design will also help reduce back, neck and wrist strain, by improving posture. While laptop computers are handy and endlessly portable, the effects can be debilitating for heavy users," enthuses Bad Back Store's Managing Director Felicity Wood.
The problem of course, is that the screen and keyboard are attached. This is convenient when you are on the go, but its design means a trade-off between poor neck/head posture and poor hand/wrist posture; either the keyboard is too high or the screen is too low. "The COOLdock Laptop Stand offers eight levels of adjustable screen height tilt providing the ultimate in ergonomic comfort. It's really a state-of-the-art ugrade for your laptop, a real must have," says Wood.
COOLdock Laptop Stand is exclusive to http://www.badbackstore.com. RRP $65.00
Features:

Space-saving, money-saving solution eliminates the need for extra monitors.
Smart, simple fashion and unique design
Built-in 4-port USB 2.0 hub provides one-time connection for computer accessories
8 Level adjustable screen height tilt for optimal viewing and ergonomic comfort.
Allows positioning of LCD at eye-level to help reduce neck strain.
Built-in 2 cooling fans dissipate heat away from the laptop and cools down the overall temperature of the system
Specifications

Product Dimension : 327x281x46mm
4 USB 2.0 ports
ON/OFF power switch
Fan Dimension: 60 x 60 x 10 mm
Rated Voltage: 5V DC
Power Current: 0.18 A
Rated Consumption: 0.9 W
Rated Speed: 3500 ± 10%RPM
Airflow: 30 CFM
Static Pressure: 2.01 mm H2O
Noise Level: < 26 dBA
Some additional tips to help improve posture when working on a laptop include:

Use an external mouse and keyboard and keep them at the edge of your desk.
Adjust your chair so your desk is just a little below your sitting elbow height.
Raise the laptop so the top of the screen is just below eye level.
Don't lean on your desk while typing and keep your elbows in line with your shoulders, hanging loosely at your sides.
When using the laptop keyboard, try not to drop your wrists onto the "wristrest". Instead, move your hands freely across the keyboard and keep your hands in line with your elbows.
Footnote:
(1) CNET.com - "Dell to recall four million laptop batteries" By Tom Krazit and Michael Kanellos, CNET News.com (15/8/06)
Samples of the innovative COOLdock is available to media for review.
Media Contact:
Michelle Ranells
bad back store - badbackstore.com
Phone: 580-925-8787
Freecall: 866-457-2225
About BadBackStore.com
With increasing numbers of people suffering chronic back pain and seeking solutions, badbackstore.com is committed to providing information and resources to help ensure sufferers receive informative data enabling them to make informed decisions.
The site features high-quality, ergonomic products ranging from ergonomic chairs to lumbar support and massagers, with the selection largely driven by customer demand and feedback.
Our company directors have over 50 years combined manufacturing and marketing experience in the health industry. Supported by an energetic team of customer service, health professionals, technical, marketing and logistics specialists, we aim to make BadBackStore.com number one for pain relief products and customer satisfaction.
Online visitors return to our site to access the latest innovations and developments in spinal care research, which is sourced from leading international research institutes, hospitals, government health resources and increasingly from government approved alternative therapy sources.
# # #