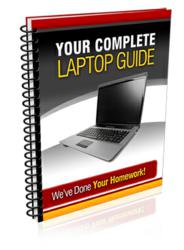 Online comparison shopping is one of the best ways to find that special laptop bargain.
(PRWEB) January 11, 2012
It's no big secret, smart online buyers have perfected the art of comparison shopping, according to LaptopsOnlineBuy.com, a newly launched laptop comparison site. These experienced buyers have learned a valuable lesson - in order to get the best deals, you must do some serious comparison shopping to get the lowest price. It can mean saving $100s off your next laptop purchase.
One of the major benefits of the web - all this comparison shopping has been made extremely easy for the potential buyer. One can quickly browse countless online stores to compare prices and bargains, all from the comfort of their homes. Consumers can save both money and time by going the cyber shopping route.
One of the main elements of LaptopsOnlineBuy.com is the "Deal of the Day" feature, where all the latest offers are pulled from around the Internet and presented to shoppers. This feature displays the product, the price and the online merchant or store selling the products. Savvy consumers can browse through these listings and find the right deal for them.
This feature will display laptops from major manufacturers such as HP, Dell, Lenovo, Alienware, Toshiba, Apple... all the latest offerings and the best online prices. It will also display the major online retailers such as Amazon, Best Buy, Buy.com... all featuring the recent bargains.
"The main reason for the new laptop site," states Titus Hoskins, who manages the new site. "Was to give all our laptop guide visitors to Bizwaremagic.com, a much more comparative shopping experience when it comes to buying a laptop or computer online."
LaptopsOnlineBuy.com will feature all the latest laptop models from all the major manufacturers. These listings will be presented in handy, easy to access categories such as gaming laptops, student laptops, business laptops, netbooks and 3D laptops. Buyers can find laptops suited for their usage or what they need it for. In addition, laptops are presented by display size, price range and of course, by brand name. All these features will make it much easier for the shopper to find the right laptop to match their needs. Shopping for your next laptop doesn't get any better than this.
The special laptop comparison site can be found here: http://www.laptopsonlinebuy.com or download our comprehensive laptop buying guide here: http://www.laptopcomputerguide.org All products/companies mentioned above are registered trademarks of their respective owners and companies.
###