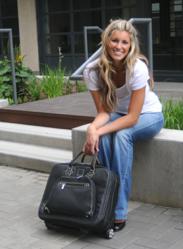 We are proud to have been working with Clark & Mayfield for the past 5 years. Their attention to quality and contemporary style has been a real plus to us at LeatherPaks
Mays Landing, NJ (PRWEB) May 28, 2011
Clark & Mayfield's contemporary styles and fresh designs in colors that are perfect for the spring and summer made this line a natural to be LeatherPaks' featured line for June. Designed with the highest quality materials and attention to detail.Clark & Mayfield's company mission is to produce laptop bags for women who want a bag to carry a laptop without being bulky or unattractive. Clark & Mayfield laptop tote bags have been a valuable asset to LeatherPaks' success.
Some of the top Clark & Mayfield styles found at LeatherPaks include:
The Stafford Vintage Leather Laptop Tote: This is the perfect everyday carry all, a chic laptop tote with handbag styling. Made from top grain leather this gorgeous computer bag will make heads turn at the office.
The Sellwood iPad / Netbook Tote Bag: Looking for a fun and functional laptop case for an iPad or netbook this durable carry-all laptop bag fits the bill perfectly
Stafford Leather Rolling Laptop Briefcase: Clark & Mayfield's first ever rolling leather bag is not only extremely cute, but also full of useful pockets. This is the perfect leather travel bag for everyday or for a night away
These are just a few examples of why the Clark & Mayfield line is one of LeatherPaks' most popular product lines.
"We are proud to have been working with Clark & Mayfield for the past 5 years. Their attention to quality and contemporary style has been a real plus to us at LeatherPaks" said Walter Schmidt, owner of LeatherPaks.com.
For the month of June find great deals on all the Clark & Mayfield laptop totes at LeatherPaKs.com also get free shipping on every order.
# # #