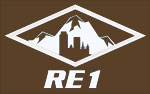 Laramie, WY (PRWEB) May 19, 2011
As part of their continuous campaign to provide a higher level of service to homebuyers and property owners in the Laramie, Wyoming area, prominent property management and real estate firm Real Estate 1, Jerry Walsh & Co. LLC recently announced the launch of a new website, http://www.RealEstate1Wyo.com. Extensive residential and commercial real estate listings, community information, and resources for buyers, sellers, renters and property owners are only some of the features available through the new site.
"With around 90 percent of homebuyers using the internet to search for homes, it makes sense for any real estate professional to come up with a website," says the firm's owner and associate broker J. T. Walsh. "We have gone several steps further with RealEstate1Wyo.com, however. It isn't just a collection of Laramie real estate for sale. We've designed it to be something like a one-stop shop for anyone interested in buying, selling, leasing or even building a home or commercial property in Laramie."
The county seat of Albany County in southeastern Wyoming, Laramie is known for being home to the University of Wyoming (UW), widely acknowledged to be one of the best colleges in the country and the only four-year institution of higher education in the state. University of Wyoming real estate is one of the areas of expertise of the team at Real Estate 1, Jerry Walsh & Co.
As a Laramie property management firm as well as a full-fledged real estate brokerage, Real Estate 1, Jerry Walsh & Co. offers a wide range of services, something that their new website's diverse features can attest to. Apart from listings of residential and commercial properties for sale and for rent, RealEstate1Wyo.com also has online rental applications and payment services, community resources, and useful information for those interested in real estate development or who are planning on building a residential or commercial property.
Learn more about Laramie, Wyoming real estate and the services of Real Estate 1, Jerry Walsh & Co. LLC at RealEstate1Wyo.com.
###