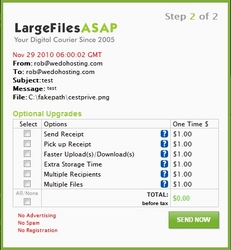 Perhaps the most exciting feature of all is for our enterprise and business users. We've felt for a long time that companies have had to accept the "subscription model" which left a lot of users questioning the $ value and feeling it wasn't flexible
Victoria, BC (PRWEB) November 29, 2010
LargeFilesASAP, an internet pioneer in large file sending services since 2004, has launched Version 4.0 of its web service. Primarily used by entities needing to send large files to other users around the globe by email, LargeFilesASAP has enjoyed a record breaking year (10 x user growth over previous year). Version 4.0 adds a host of new features which will improve overall user experience without registration, advertising or spam.
"We really focused in on the key features people have been requesting. We've been patient and determined to get 4.0 right and I think we're there," said Larry Cole, Senior VP at LargeFilesASAP. "We spent a number of years studying how and why people use our services. We combined this information with the customer feedback surveys and we discovered exactly what we needed to change." Larry continued, "We are keeping our industry-leading 2GB free limit for sending for files (which we started in 2005) but we are adding client-selected premium upgrades." LargeFilesASAP provides simple and effective means to send a file to anyone else with email. Users simply choose a file, enter a recipient email address and off it goes. "What we've done with Version 4.0 is add premium features that people consistently messaged they would be willing to pay for," said Larry. "We feel it is the best of both worlds, file sending at 'no charge' without having to register, if that is the choice of the sender, but upgrade features that sometimes are an absolute must."
The upgrades that are now available to any user of LargeFilesASAP and are enhancements that add value to the process:
1) Faster Uploads/Downloads: Face it, nobody wants to watch a status bar all day with really big files. This upgrade can ramp up the upload and download speed by being moved to a premium server.
2) Send Receipt: Sometimes users just need to have proof you sent it.
3) Pickup Receipt: Get confirmation the recipient actually picked it up (and when) sent right to senders inbox.
4) Multiple Files: Sometimes users have a few files they need to get to someone; this allows them to send up to 5 files at once.
5) Multiple Recipients: Sometimes users have to send a file to several people. This option allows them to send to up to five people
6) More Server time: We don't store files indefinitely. We securely delete all files after 72 hours, which for some people isn't long enough (Weekends and Holidays are problems). This upgrade gives users 7 days to retrieve the file(s).
Upgrades are optional, users can choose to just send the file without any of them, and it's still free, still no registration and best of all, no advertising! Best of all, upgrades are just $1 each (CAD). Studies have shown that pay as you go is the fastest growing preferred methods of payment.
"Perhaps the most exciting feature of all is for our enterprise and business users. We've felt for a long time that companies have had to accept the 'subscription' models which left a lot of users questioning the $ value and feeling it wasn't flexible enough for variable demand," explained Larry. To address this issue, LargeFilesASAP is launching "PAY-LATER" services. This allows a company, entity or even an individual to use the service as much or as little as needed over the course of the month, and receive a single invoice for services used. Users then have 10 days (Net10) to submit payment. "We believe our innovation in this space will mean a huge leap in value to business users and is a much better way to pay for our Web Services," Larry finished.
LargeFilesASAP is owned and operated by iWormhole Communications Corp, a Privately Held Canadian Corporation with its HQ in Victoria BC Canada.
# # #