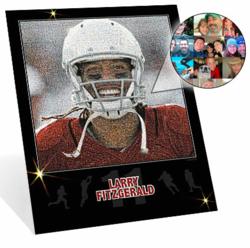 "My Fan Mosaic is a really cool way to show the bond I have with my fans. It literally shows that they are all truly a part of me." - Larry Fitzgerald
Northfield, Ohio (PRWEB) December 06, 2012
Fan Mosaics is teaming up with Larry Fitzgerald to offer his fans an inclusive holiday gift.
Fan Mosaics is creating the official Larry Fitzgerald Fan Mosaic—a photo mosaic of the six-time Pro Bowler built entirely from fan-submitted photos.
"A Fan Mosaic is a creative and permanent way to bring fans closer to their heroes," says Brian Doskocil, Fan Mosaics' director of sales & marketing. "You can actually see yourself inside the picture of your favorite star. Larry Fitzgerald fans can honor the great #11 by being part of this special event."
This print combines three things Fitzgerald holds very close; supporting breast cancer awareness, photography, and his fans. Fitzgerald is an avid photographer and continues to have his photos featured in many places away from the football field. He also lost his mother to breast cancer in 2003 and has become a leader among professional athletes in the effort to defeat the disease.
"I'm excited about the fan mosaic print," says Larry Fitzgerald. "It's a really cool way to show the bond I have with my fans. It literally shows that they are all truly a part of me. Plus, $1 from the sale of each print will be contributed to the American Cancer Society and breast cancer awareness, which is also very near to my heart."
Fans can upload their photo at no cost for inclusion in the Larry Fitzgerald Fan Mosaic at http://www.FanMosaics.com/LarryFitzgerald through January 6, 2013. They also can order the high-quality 24" x 30" commemorative print, which is designed to be framed and displayed as artwork. $1 from the sale of each print will contributed to the American Cancer Society.
About Fan Mosaics
Northfield, Ohio-based Fan Mosaics, LLC, is the bridge that connects fans and stars. The company's officially licensed celebrity photo mosaics—composed entirely of fan-submitted images—are a unique and lasting outlet for fans' enthusiasm and loyalty. Entertainers in all industries choose Fan Mosaics to thank fans for their dedication, and charities partner with Fan Mosaics to raise funds for their worthwhile causes. Visit http://www.fanmosaics.com to view completed and current projects and to learn more about the Fan Mosaics creation process.