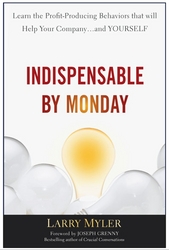 Provo, UT (Vocus) February 17, 2010
Merely one week after its release, profit enhancement book Indispensable By Monday, has reached No.1 in sales in three Amazon.com book categories – vocational guidance, motivational and counseling. Indispensable By Monday is written by Larry Myler CEO of More or Less Inc. (http://www.moreorlessinc.com ). This comes on the heels of being named one of the top five 'Books to Help You Spend Money Smartly' by University of Pennsylvania Wharton School of Business professor Marc Kramer in The Philadelphia Bulletin.
In the article, Kramer said, "Today more than ever you have to prove your worth and, in business, either you are increasing the top line or reducing the bottom line. The author [Myler] shows the reader how to increase their value no matter what role they play in the company by tracking what they do, how they do it and the contribution to the company."
Book sales have shown that Kramer is not the only person who feels there is a critical, immediate need for this type of thinking. Employees at all levels of organizations are sensing that it is imperative for them to learn two major lessons right now: how to increase their financial value within their company, and how to document that value in ways that lead to pay-raises and promotions. Indispensable By Monday and its accompanying tool, the free online Profit Proposal Generator, are empowering people to do both.
"If you look at the Amazon.com categories where the book is thriving, it is obvious people feel a real need to establish some job-security," said Myler. "No one wants to be a victim of the bad economy or be added to the unemployment statistics, and I'm happy my book can be a source of guidance for them."
Larry Myler heads up a consulting practice around Indispensable by Monday, where Myler and a team of industry professionals teach the principles of the book and their implementation with webinars, workshops, training and consulting seminars. Organizations that have hosted Myler's Profit JumpStart workshops have found millions of dollars of new profit within the ninety minutes it takes to conduct the sessions, with the majority of the ideas originating from non-executive staff.
For more information about Indispensable By Monday and More or Less Inc.'s services visit indispensablebymonday.com.
About More or Less, Inc.
More or Less, Inc. is a privately-held company in Salt Lake City that offers business training and consulting in the areas of profit enhancement, sales expansion, market positioning, and employee engagement. To find out more about More or Less, Inc., or to try the Profit Proposal Generator, visit moreorlessinc.com. You can become a fan of Indispensable By Monday and Larry Myler on facebook and follow updates on twitter @LarryMyler and @MoreOrLessInc.
Media Contacts:
Kyle Henderson or Cheryl Snapp Conner
Snapp Conner PR
(801) 994-9625
kyle(at)snappconner(dot)com or cheryl(at)snappconner(dot)com
###