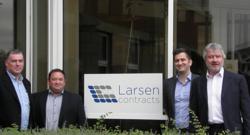 Larsen Contracts has invested considerable time and resources over the past two years to expand its customer base outside Northern Ireland and ensure it can compete globally for business.
(PRWEB UK) 19 October 2012
Larsen Contracts a specialist contractor with head office in Belfast have secured three further UK Contracts for application of External Wall Insulation to Social Housing developments in Seaham, Derby and Doncaster. This will increase Larsen's growth in UK by over 100 % by end of 2012.
The contracts which are supported through the CESP (Community Energy Savings Programme) and will result in up to 40 permanent and Contract positions at Larsen Contracts in the UK with new offices now opened in Yorkshire. CESP is designed to significantly reduce the fuel bills of some of those living in deprived areas and contribute to the improvement of the energy efficiency of the existing housing stock in order to reduce the UK's carbon emissions
A £200,000 project in Seaham involves refurbishment of 39 houses in the North East over a 10 month period. These were originally built post-war by the British and Steel federation for returning war veterans. They will be totally refurbished and refitted with application of Dash to ground floor and Silicone textured finish to first floor. Larsen is the approved sub-contractor to Keep Moat for affixing of Alumasc External Wall Insulation which will transform appearance of the properties and improve energy efficiencies.
In Derby Larsen will also refurbish almost 100 solid wall properties for Derby County Council using the SPS Envirowall system as sub-contractor to JF Tomlinson. This will involve removal of existing facades and fittings and application of Acrylic 60mm Phenolic insulation Board (External Wall Insulation) and replacement of fittings. Completion is expected by December 2012 with contract value of £650,000.
A third Social Housing contract valued at £600,000 will commence shortly in Doncaster for External Wall Insulation to 92 homes for main contractor Wates Living Space on behalf of St. Leger Homes.
Mark Murphy, Operations Director at Larsen said, "Recognising the opportunities in energy saving building initiatives, we have invested significant time and money in developing partnerships with External Wall Insulation manufacturers, and in training our in-house teams in this field. This type of work really complements our core skills and experience in Concrete Repair and other aspects of our specialist contracting services."
Larsen Contracts have recently opened new premises in the North of England, in addition to existing offices in Dublin and Belfast and are now very well placed to grow their business in concrete repair and external wall insulation for refurbishment of social and private sector housing.
Invest Northern Ireland has offered Larsen Contracts market development support to help enhance its presence in Great Britain.
Commenting on this news, Kevin McCann, Invest NI's Director of Advanced Engineering and Construction, said: "Larsen Contracts has invested considerable time and resources over the past two years to expand its customer base outside Northern Ireland and ensure it can compete globally for new business. This is a significant achievement for Larsen which will help secure the future growth of the company."