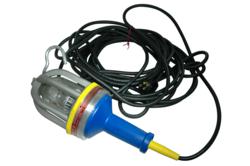 On Magnalight.com operators can see pictures that show that the EHL-LED7W series lights outperform a 100 watt incandescent version of the same light.
Kemp, Texas (PRWEB) June 12, 2013
The EHL-LED-7W-50LV-AC LED drop light from Larson Electronics offers operators in demanding conditions high output and extreme durability combined with low voltage operation and explosion proof regulations compliance. This explosion proof drop light features a 7 watt LED lamp that provides 3 times more foot candles at five feet than a 100 watt incandescent lamp. This LED drop light runs much cooler than incandescent work lights, has a 50,000 hour rated bulb operating life, will not shatter or break if dropped, and produces a cool white light that has better contrasting and color qualities than the yellowish light produced by incandescent bulbs. The housing on this work light is constructed of light weight aluminum for comfortable handling and has an aluminum globe guard with included hanging hook for added durability and easy placement. A rubber bumper provides resistance to impacts, and a clear heavy duty bulb cover provides excellent protection for the LED lamp. This is a low voltage unit that is designed to run with the 12 or 24 volt AC current commonly used in areas where low voltages are preferred or required. Since this work light incorporates an LED lamp instead of a fluorescent or incandescent, there is no internal ballast to add weight or reduce reliability or inline ballast to cause cord tangling. Larson Electronics has fitted this lamp with 50 feet of SOOW cord ending in a straight blade plug to provide simple standard connections and ample length for moving about a work area. This light is approved for Class 1 Division 1 and 2 and Class 2 Division 1 and 2 locations where flammable gases and vapors are present, making it ideal for petrochemical operations, tank cleaning and inspection, water treatment plant use, and similar locations where the potential for ignition of flammable petrochemical gases and vapors may be present.
"On Magnalight.com operators can see pictures that show that the EHL-LED7W series lights outperform a 100 watt incandescent version of the same light," said Rob Bresnahan with Larson Electronics' Magnalight.com. "While incandescent hand lamps can generate enough heat to burn operators that bump into the light, the LED explosion proof hand lamps generally don't get above the ambient temperature of the area. The solid state electronics make the LED light vibration resistant and the 50,000 life hour LED rating enable operators to avoid re-lamping for more than 5 years. So our explosion proof LED hand lamps and drop lights create a safer, lower maintenance environment for our military, industrial and petrochemical operators."
Larson Electronics manufactures and carries a comprehensive line of explosion proof LED lights, hazardous location lights, LED work lights and portable explosion proof lights, and continually expands its lighting inventory to include the latest in professional lighting technology. Visit Magnalight.com to view their entire line of industrial grade lighting solutions, or call them at 1-800-369-6671 or 1-214-616-6180 for international inquiries to discuss purchasing and special ordering requirements.