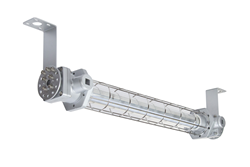 This unit is ideal for applications where space is limited, yet a reliable powerful source of lighting is needed.
Kemp, Texas (PRWEB) June 10, 2016
The EPL-LP-24-LED from Larson Electronics is an integrated low profile linear explosion proof LED light fixture with a unique design. Instead of using diffused glass, optics or reflectors to distribute the light, Larson Electronics has positioned the boards within the fixture to provide a wide area light without sacrificing quality or light output. Two offset LED assemblies within the fixture allow this explosion proof linear lamp to provide a brilliant 100 degree horizontal beam spread and a 140 degree vertical beam spread. This Class 1 Division 1 & 2, Class 2 Division 1 & 2 low profile explosion proof light fixture provides 6,760 lumens of high quality light while drawing only 52 watts of power. The LED assembly is shielded behind a tempered borosilicate glass tube that is protected by an aluminum wire guard to prevent accidental damage.
Measuring only 5" in width, this fixture takes up half the surface area as standard two foot, two lamp fixtures. This explosion proof LED light has a T5 temperature rating, carries a paint spray booth, ATEX, and IECEx certification and is approved for use in the United States, Canada, Europe, and Asia markets. This light can be operated with 100-277 volts AC and includes a ¾" NPT hub for pendant mounting, as well as swivel mount brackets for surface mounting. This fixture is ideal for applications such as paint booths, oil rigs, offshore applications, petrochemical, manufacturing, chemical storage, water treatment centers, and food processing plants where flammable gases, vapors, or dusts exist or stand the potential to exist.
"This new explosion proof light has a compact, low profile design and produces twice the amount of light output when compared to standard two lamp fluorescent light fixtures," said Rob Bresnahan, CEO of Larson Electronics. "This unit is ideal for applications where space is limited, yet a reliable powerful source of lighting is needed."
Larson Electronics carries an extensive line of LED light towers, portable power distribution systems, explosion proof lights, portable work lights and industrial grade LED area lights. You can view Larson Electronics' entire line of lighting by visiting them on the web at Larsonelectronics.com. You can also call 1-800-369-6671 to learn more or call 1-214-616-6180 for international inquiries.