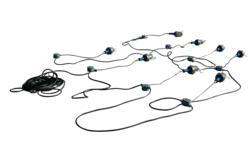 By using LED lamps we have lowered heat production and amp draw while increasing the lifespan and output of the bulbs.
Kemp, Texas (PRWEB) April 05, 2013
Larson Electronics has announced the release of an explosion proof string light system designed to provide higher efficiency, higher output, and better reliability and safety than traditional incandescent string lights. The EPL-SL-8X4FT-LED Explosion Proof LED String Light set incorporates the latest in LED lighting technology into an 8 lamp string light design, resulting in a system that produces more light using less power and has far greater durability and reliability than traditional incandescent string lights.
The EPL-SL-8X4FT-LED explosion proof LED string light from Larson Electronics takes the standard design of traditional string lights and improves it through the inclusion of LED lamps instead of standard incandescent or fluorescent bulbs.
This explosion proof string light features eight heavy duty drop light assemblies with aluminum hooks connected inline along 64 feet of 12/3 SOOW explosion proof cord. Each lamp connects to the main cord through four feet of cord and its own junction box, with each junction spaced eight feet apart. An extra 50 feet of explosion proof cord fitted with an ECP 1523P Class 1, Division 1 approved explosion proof plug is included which provides added reach and a secure connection to power outlets. The plug on this unit is a twist lock design, which means when connecting to a twist lock receptacle the plug must be twisted and locked into place in order to energize the receptacle. These plugs will work with standard outlets, but must be connected to an explosion proof receptacle in order to maintain compliance with HAZLOC regulations. Each LED lamp produces 1,050 lumens of light output, more than a 60 watt incandescent bulb, yet runs far cooler and uses only a fraction as much power. The lamp housings are formed from copper free aluminum with a heavy duty globe guard and aluminum hanging hook, and an annealed glass globe guard protects the LED lamp assembly from impacts or accidental dropping.
The LED lights in these units provide much sharper and whiter light output compared to traditional incandescent bulbs, making them well suited to areas where close work is performed and operations where good contrast and detail rendering is important. These LEDs are highly resistant to shocks and vibrations, making them well suited to use in abusive industrial work conditions. The cool running LED lamps provides added protection against accidental burns should a worker's skin come in contact with the lamp while in operation.
By incorporating LEDs, Larson Electronics has also improved the reliability of these portable hazardous location lights. Whereas a typical incandescent lamp will burn for approximately 500 to 1,000 hours and then burn out, these LED lamps will run for over 50,000 hours, greatly reducing down time and helping to improve safety. Greater run time means less time and money spent servicing and replacing bulbs, better safety through improved lighting consistency, and improved productivity. The EPL-SL-8X4FT-LED, including plug, is approved for hazardous location use and carries Class 1, Division 1 & 2, Groups C and D, and Class 2, Division 1 and 2, Groups F, G approvals. This string light set is ideal for large areas where a lot of space needs to be illuminated and work well in applications such as tank inspection and maintenance, underground mining and utilities work, plant turnaround and repairs, and anywhere lighting can be easily suspended from overhead scaffolds, framing or other similar structures.
"By using LED lamps we have lowered heat production and amp draw while increasing the lifespan and output of the bulbs," said Robert Bresnahan of Larson Electronics' Magnalight.com. "When used with our MMH-5 magnetic mounting hooks, this explosion proof string light will illuminate a work site and allow operators to freely use both hands for working."
Larson Electronics is a leading manufacturer and distributor of industrial grade electrical equipment and carries an extensive line of power supplies, portable substations, explosion proof lights, portable hand lamps, and explosion proof tank lights. You can view Larson Electronics' entire line of explosion proof lighting by visiting their website at Magnalight.com. Larson Electronics can be reached directly by calling 1-800-369-6671 or 1-214-616-6180 for international inquiries.