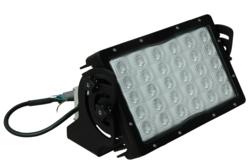 This LEDP5W-30-1227-20C LED light is designed for the most demanding environments. It is IP68 rated and can withstand dust, dirt, dampness and extreme vibration.
Kemp, Texas (PRWEB) May 10, 2013
The LEDP5W-30-1227-20C High Output LED Light from Larson Electronics offers high power light output from a compact and rugged design that can be run from standard 120-277 VAC electrical current. This powerful LED light assembly is designed for use in demanding environments and is constructed of powder coated extruded aluminum with an unbreakable polycarbonate lens for excellent resistance to damage and wear. The housing is rated IP68 waterproof, meaning it can withstand submersion up to three meters of depth for extended periods, making it effectively impervious to the effects of driving rain and high humidity.
Although this LED light runs natively from 12 or 24 volt DC current, Larson Electronics has fitted a waterproof inline transformer with 20 feet of cord to allow operation with standard universal currents ranging from 120 to 277 VAC. This means operators can run the light from a standard wall outlet, or if desired, they can disconnect the transformer and run the light directly from a vehicle or piece of heavy equipment as well. These LED lights also feature advanced internal electronics that provide active heat management and precise voltage control for maximum LED light output and longevity. The LEDs in these units are CREE XLamp-XPG® units which have been chosen for their 50,000 hour operational life, extreme high output, and excellent reliability. These lights produce 14,790 lumens of light output in an intense and well focused beam with limited spillage or spread. This high intensity allows this light to produce output equivalent to that of 400 watt metal halide lamps, but without the high heat, fragile construction, or excessive energy consumption associated with HID lamps. Since these lamps are LED, they have no filaments or fragile glass in their construction, giving them the ability to withstand impacts and heavy vibrations that would cause typical incandescent or HID lamps to fail.
Mounting for these lights is provided by an innovate trunnion style mounting bracket that allows the light to be attached to flat surfaces and adjusted through 360 degrees of vertical movement. To adjust the unit after mounting, the user simply loosens the thumb screws located on either side of the unit, moves it into the desired position, then retightens the screws. The LEDP5W-30-1227-20C is an ideal lighting solution for operators who want a compact alternative to HID lamps that can withstand the demanding and oftentimes abusive conditions of industrial, military or law enforcement use, without sacrificing power or efficiency.
"This LEDP5W-30-1227-20C LED light is designed for the most demanding environments. It is IP68 rated and can withstand dust, dirt, dampness and extreme vibration," said Rob Bresnahan with Larson Electronics' Magnalight.com. "The LEDP5W-30-1227-20C high intensity LED light is a highly durable alternative to 400 watt metal halide lights."
Larson Electronics has been a leader in industrial lighting for over 40 years and produces a full range of industrial and commercial lighting equipment, military and law enforcement lighting, portable lights, LED spotlights, and heavy duty HID spotlights. To view the entire Larson Electronics line of high quality LED lights and work lighting solutions, visit them on the web at Magnalight.com. You can also call 1-800-369-6671 to learn more about all of Larson Electronics' lighting products or call 1-214-616-6180 for international inquires.