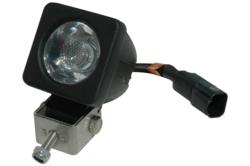 With a low profile and compact form, this infrared emitted is ideal for covert operations that require concealed infrared vehicle lighting.
Kemp, Texas (PRWEB) June 25, 2013
The Larson Electronics LEDLB-1-IR-MTL military infrared LED tail light offers invisible infrared output, compact size, and rugged construction that is ideal for use in military and security applications where covert vehicle lighting is needed. This compact LED light produces light in the 940Nm or 850Nm portion of the infrared light spectrum, making it invisible to the naked eye but ideal for use with night vision systems, security cameras, and night vision goggles.
This LED light is compact in size measuring 2 inches wide by 2 inches tall and has a single mounting stud with stainless steel hardware, making it ideal for mounting to the rear of transports, armored vehicles, and just about any typical car or truck where infrared indicator lights are desired. This infrared led light allows professionals in covert operations to maintain the convenience and security of a vehicles stop and brake light indicators without compromising the stealth aspects of operating without traditional indicator lighting.
By using these lights in combination with night vision goggles or camera systems, operators can easily maintain visibility of vehicles within their own group without alerting others to their presence. These lights will run directly from any standard 12 or 24 volt vehicle electrical system, making wiring up the installation fast and easy. The housing is formed from tough extruded aluminum for durability, and a sealed polycarbonate lens protects against damage from impacts and scratches caused by dust, dirt, gravel, and road debris.
The housing is also IP68 rated waterproof to three meters of submersion, making this light also fully water and weatherproof. To further simplify, installation of Larson Electronics includes a Deutsch IPD / LADD DT04-2P connector wired directly to the lamp and a matching male connector for connecting to the power source. These lights include a host of features including built in heat and voltage managing circuitry for longevity and the ability to run from any voltage ranging from 9 to 42 VDC.
These infrared military lights can also be ordered in either spot or floodlight configurations, allowing users to apply them to a wide variety of applications including marine, vehicle, security, law enforcement, and just about anywhere a powerful yet compact and durable source of infrared illumination is desired.
"The LEDLB-1-IR-MTL is a powerful LED infrared emitter with a small form factor for use in covert operations," said Rob Bresnahan with Larson Electronics' Magnalight.com. "With a low profile and compact form, this infrared emitted is ideal for covert operations that require concealed infrared vehicle lighting."
Larson Electronics manufactures and carries a comprehensive line of military LED lights, law enforcement lighting, military spotlights and industrial and commercial lighting, and continually expands its lighting inventory to include the latest in professional lighting technology. Visit LarsonElectronics.com to view their entire line of industrial grade lighting solutions, or call them at 1-800-369-6671 or 1-214-616-6180 for international inquiries to discuss purchasing and special ordering requirements.