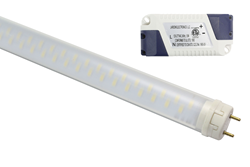 By simply by passing the ballast in a fluorescent fixture, installation is very simple.
Kemp, Texas (PRWEB) January 23, 2017
The LEDT8-28W-V3-D 28 watt T-series LED bulb from Larson Electronics works with any T8 fluorescent light fixture, can be configured for any T series fluorescent light fixture and requires no ballast for operation. Power for this LED tube is single ended, meaning line and neutral voltage are applied to the same end.
Internally, the operator simply brings the black wire to one pin and the white wire to the other. When installing this tube in a fluorescent light fixture, the operator must bypass the ballast and wire the power directly to one end of the LED tube. This feature makes the tubes an ideal upgrade for four foot fixtures with failed ballasts.
This LED lamp features rotating pins, allowing operators to adjust the direction of light dispersion after installation. While fluorescent lamps are Omni-directional and illuminate 360°, the LED style replacement lamps are directional and offer a 160° beam spread. The polycarbonate lens diffuses the light and makes this bulb ideal for food safe environments as there is no glass.
The aluminum housing serves as a heat sink and provides rigidity and strength for this LED bulb. This LED light fixture features 0-10 volt dimming capabilities giving the operator the ability to manually adjust the brightness of the LED lamp quickly and easily. These LED fluorescent style bulbs are universal voltage and run directly off any voltage ranging from 100 volts to 277 volts AC 50/60 Hz.
"These new LED tubes were designed for our explosion proof light fixtures, but may be used as replacements in standard fluorescent light fixtures," said Rob Bresnahan, CEO of Larson Electronics. "By simply by passing the ballast in a fluorescent fixture, installation is very simple."
Larson Electronics carries an extensive line of LED spotlights, LED hunting lights, colored LED lights, portable work lights and industrial grade LED area lights. You can view Larson Electronics' entire line of lighting by visiting them on the web at Larsonelectronics.com. You can also call 1-800-369-6671 to learn more or call 1-214-616-6180 for international inquiries.