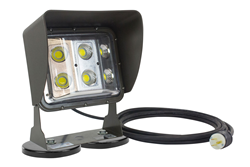 Featuring LED technology, this magnetically mounted work light requires no warm up time and can be cycled on and off without any reduction in lamp life
Kemp, Texas (PRWEB) April 29, 2016
The LEDWP-600E-2M-20C low profile LED floodlight from Larson Electronics produces a wide flood beam without the high heat, fragile construction, or high energy costs of incandescent lighting. This 60 watt LED light offers high light output from a compact form factor and is designed to provide a more durable and long lived alternative to halogen and metal halide units. The light assembly consists of six, 10 watt LEDs paired with high purity optics to produce a wide light distribution overpowering that of a 500 watt quartz flood light. This light is constructed of three angled boards that help provide a wider spread, with the center board concentrated to go straight out while the boards on the side are 45° offset. The LED lamp assembly is protected by a shatterproof polycarbonate lens which is secured to the housing with a waterproof seal.
This magnetically mounted LED light is designed to withstand demanding conditions and is waterproof, vapor proof and built to resist the damaging effects of an outdoor environment. The mount on this LED light consists of a stainless steel coated bracket with two 200 pound grip magnets attached by stainless steel screws. The mounting assembly provides 360 degrees of rotation and 180 degrees of up and down tilt to allow the user to position the unit as desired once mounted. This unit is designed to operate with voltages ranging from 110 volts AC to 277 volts AC, providing versatile power connection options. It is equipped with 20 feet of 16/3 chemical and abrasion resistant SOOW cord that is fitted with an optional industrial grade cord cap for easy connection to common wall outlets.
"Featuring LED technology, this magnetically mounted work light requires no warm up time and can be cycled on and off without any reduction in lamp life," said Rob Bresnahan, CEO of Larson Electronics. "This LED wall pack light includes an optional glare shield that can be removed when no longer needed."
Larson Electronics specializes in portable industrial lighting equipment, high mast light towers, explosion proof light fixtures, power distribution systems, LED lighting and more. To view their wide range of products, visit them on the web at Larsonelectronics.com or call 1-800-369-6671 for more information. Larson Electronics will be attending the 2016 OTC show in Houston, Texas from May 2nd to May 5th. Visit them at booth 6716 to inquire about their lighting solutions for many industrial applications.