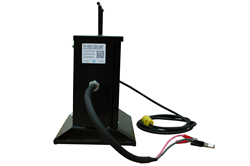 This power distribution system is built with a carrying handle that can easily be used as a cord wrap for storing and transporting
Kemp, Texas (PRWEB) February 27, 2017
The TX-1000-DC portable power transformer from Larson Electronics is built to provide operators with a reliable source to step-down 120/240 volt equipment and operate it on 12 or 24 volts DC. This compact power distribution transformer is designed for portability and convenience as well as durability and includes an elevated base platform for protection from standing water and weather proof construction. The transformer is encased within a weatherproof NEMA 3R rated enclosure and produces minimal interference with wireless radio receivers.
The primary input on this unit accepts either 120 or 240 volts AC at 50/60 Hz depending upon configuration, and is connected through a five foot cord with the choice of a general area cord cap. The output from this unit delivers 12 volts DC at 83 amps or 24 volts DC at 41 amps depending upon the unit's configuration. This heavy duty unit measures 25 inches tall, 14 inches wide and 11 inches deep, is surface mountable, and provides a reliable and low interference low voltage power solution for equipment requiring 12 or 24 volts DC.
"This power distribution system is built with a carrying handle that can easily be used as a cord wrap for storing and transporting," said Rob Bresnahan, CEO of Larson Electronics. "This unit is equipped with an optional general area cord cap for connection to common wall outlets and offers five feet of cord between the plug and transformer."
Larson Electronics carries an extensive line of LED light towers, portable power distribution systems, explosion proof lights for hazardous locations, portable work lights and industrial grade area lights. You can view Larson Electronics' entire line of lighting by visiting them on the web at Larsonelectronics.com. You can also call 1-800-369-6671 to learn more or call 1-214-616-6180 for international inquiries.