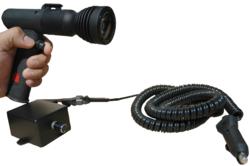 The HL-85-3W1-RED-D pistol grip LED spotlight is an ideal low voltage green light source for hunting, inspection, and entertainment applications.
Kemp, Texas (PRWEB) June 04, 2013
The Larson Electronics HL-85-3W1-RED-D LED handheld LED spotlight is a portable spotlight system that offers hunters and professionals a rugged and powerful lighting solution that can withstand the rigors of outdoor use. This ultra durable spotlight is built to withstand demanding conditions and abusive use with an impact resistant nylon body and solid machined aluminum light head with unbreakable LEXAN lamp lens. This LED spotlight is also designed for easy servicing and can be taken apart without tools, giving users the ability to easily service the unit in the field if necessary. Light output from the spotlight is produced by a single 3 watt LED paired with a highly effective reflector assembly that produces brilliant red illumination without an added filter or lens, which reduces output losses and improves efficiency. The beam from this spotlight is well focused and free of lens distortions, allowing it to reach up to 550 feet in length and giving it the power to illuminate objects at extended distances with great effectiveness.
This spotlight is well suited to spotlight hunting as many outdoorsmen prefer the red output which is considered less alarming to game and nuisance animals which are commonly hunted at night, as well as effective for military or law enforcement use where colored illumination also fills a specific niche. This LED spotlight provides extreme reliability with an LED lamp life in excess of 50,000 hours and the ability to resist the damaging effects of water, UV rays, impacts from dropping, and the all around rough handling associated with outdoor use. The unit can be powered by voltages ranging from 9 to 32 VDC, and is fitted with a 16 foot coil cord with cigarette lighter plug and an inline dimmer switch to provide ample cord length and the ability to adjust brightness as desired. The HL-85-3W1-RED-D handheld spotlight represents the latest in portable LED lighting technology and provides users with a powerful and rugged lighting solution that will provide many years of service even under the most demanding operating conditions.
"The HL-85-3W1-RED-D pistol grip LED spotlight is an ideal low voltage green light source for hunting, inspection, and entertainment applications," said Robert Bresnahan with Larson Electronics' LarsonElectronics.com. "This lightweight LED spotlight has no bulb to break and can be easily carried or held solidly in place with the HL-RUL-8-MM 100lb grip magnetic base."
Larson Electronics produces a full range of industrial and commercial lighting equipment, military and law enforcement lighting, portable lights, LED spotlights, and heavy duty HID spotlights. To view the entire Larson Electronics line of high quality spotlights and work lighting solutions, visit them on the web at Larsonelectronics.com. You can also call 1-800-369-6671 to learn more about all of Larson Electronics' lighting products or call 1-214-616-6180 for international inquires.