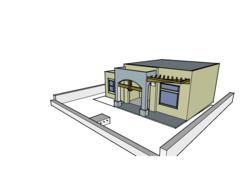 Las Cruces, NM (PRWEB) January 10, 2013
Outdoor living rooms and custom kitchens are popping up across backyards as homeowners discover the enjoyment of living alfresco. The outdoors are becoming an extended living space for families.
Michael Fraembs, owner of TNM Building & Development will share some advice to consider before building an outdoor living space for any family.
This time of year most homeowners are not longing for the outdoors, but forethought can be beneficial. Building an outdoor living space during the fall or winter will guarantee a finished project for the spring, when the weather gets warmer and homeowners are ready to cut loose outside. Demand for contractors is less during the winter, so it is easier to get a project done quickly with good craftsmanship.
Determining the primary function of an outdoor living space is essential to having focus and developing a resourceful plan with a contractor. "Homeowners are becoming more creative with their outdoor living space. We receive requests for outdoor kitchens, outdoor entertainment areas, and putting greens," said Michael. Whether homeowners are looking to create recreational space, an entertainment area, custom built barbeques, a meditation space or multi-purpose use; outdoor amenities are available for a variation of activities. Outdoor televisions, audio systems and pizza ovens, will not leave homeowners longing for creature comforts. Fireplaces and fire pits create warmth, light and a focal point for visual appeal.
The outdoor living space should complement the rest of the home. "An outdoor living area should be cohesive with the architectural style of the home," said Michael. Maintaining the same style outdoors will create congruence between the interior and exterior of the home. Consider colors, surfaces and textures as well as the overall style when planning.
To help customers visualize an outdoor transformation to their backyard, TNM Building & Development utilizes 3-D Design software. "The 3-D design software helps our clients envision their project before construction begins. After gathering the customer's ideas, measurements are taken, a plan is created and a depiction of the end product is produced. The software allows the design to be seen at every angle and streamlines the creative process.
For more information about this company please call, (575) 202-4836 or check out their website at, http://www.tnmbuilding.com.
About TNM Building & Development
TNM Building & Development is a full service, family owned and operated business. Licensed, bonded and insured, they offer design and project management services for residential and commercial construction in Las Cruces, Hatch, and Mesilla. They provide in-house design, development and construction services for new construction, remodeling and renovation projects as well additions. They feel that a high quality and superb client relationship is the heart of their business and is sole factor of a successful company.
###