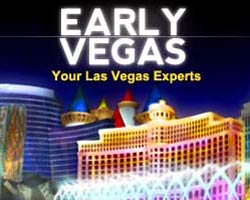 Since so many Las Vegas hotels offer spring break specials for parties and rooms starting in March, EarlyVegas is here to help narrow down the top Las Vegas hotels for spring break.
(PRWEB) February 23, 2013
Looking for this year's spring break hot spot? There's nowhere better for letting loose and forgetting about school or work than Las Vegas for Spring Break 2013. Since March and April are rolling up, spring break is almost here and it's time to make some spring break hotel reservations before time runs out! Whether a student or not, book a Las Vegas room or a spring break package to get the hottest spring break deals around. This year, with the many Las Vegas spring break coupons available, save money on a Vegas vacation without sacrificing any fun spring break partying. Running from March into the summer months, Las Vegas spring break promo codes can help travelers save big bucks on spring break or a Vegas trip into the summer months. Since so many Las Vegas hotels offer spring break specials for parties and rooms starting in March, EarlyVegas is here to help narrow down the top Las Vegas hotels for spring break. Here are the top eight picks from EarlyVegas.com for the best Las Vegas deals for spring break 2013:
1. Vegas Spring Break Unleashed 2013 from the MGM Resorts International: With room prices starting at $42/night, the six Las Vegas resorts of MGM Resorts international (MGM Grand, Mandalay Bay, Monte Carlo, New York, New York, Luxor, and Excalibur) are offering Las Vegas spring break specials up and down the Strip that are tough to beat. Whether looking for a raging adult only Vegas pool party, drink specials, or a relaxing break with spa discounts, the Spring Break Unleashed packages from MGM Resorts International have specials for any type of spring breaker. Here are the six Las Vegas Spring Break promo codes for the MGM Resorts International 2013 Vegas Spring Break Unleashed packages:
Best Spring Break Unleashed Las Vegas packages for spring break parties in 2013:
--Monte Carlo: Stay with the Monte Carlo for a spring break VIP feel without VIP spending. With rooms starting at $70/night, the Monte Carlo Spring break coupon saves spring breakers on AAA Four Diamond Accommodations with savings of 20% on room rates. Spring Break 2013 at the Monte Carlo saves spring breakers money on everything they would need: partying, the pool, and food for those drunchies! The package at the Monte Carlo includes: 2-for-1 Big Chill domestic draft beers, 2-for-1 pool raft rentals, and 2-for-1 for Entrées at the Cafe.
-- Luxor: Spring Break Unleashed at the Luxor is perfect for those who want to experience spring break nightlife in Las Vegas on a budget. The Luxor spring break special offer includes two free entry passes to LAX nightclub for a Las Vegas nightlife spring break experience no spring breaker will forget. This cheap spring break package also includes 15% off prices at the Nurture Spa for the Glow and Bronze Package, plus savings of 15% for purchases at Rice & Company. With rooms starting at $42 per night, this is one of the cheapest spring break packages from March until the end of April, 2013.
--MGM Grand or The Signature: Book a room for spring break at the MGM Grand or The Signature at MGM Grand with the Spring Break Unleashed package and experience a spring break party like no other. This 2013 spring break special in Vegas comes with free entry for Wet Republic on Monday and Thursday, plus savings of 20% at the spa and salon for those who want some rest and relaxation for spring break. Spring breakers can also get the spring break pregaming started at Diego for daily happy hour specials with this Vegas promo code. Rates using this spring break coupon start at $114.45/night, and the promotion starts on March 1st and lasts until April 30th, 2013.
-- Mandalay Bay: Book spring break at the Mandalay Bay Las Vegas resort or THEhotel and party at the pool with a $50 Cabana Credit plus save 20% on room rates using the Spring Break Unleashed promo code. This spring break deal helps spring breakers experience Las Vegas luxury on the Strip without breaking budget. Plus, the promo code offers savings on food at Slice of Vegas by offering a free bruschetta when purchasing one entree. This Vegas promo code runs from March 1st until April 30th, and rooms start at $75/night! Some dates have already started selling out, so go use this 2013 spring break promo code quick!
Best Spring Break Unleashed Packages for all ages:
-- New York New York: The spring break offer at the New York-New York is the best option for spring travelers of all ages. This package offers 2-for-1 entry at The Roller coaster plus 2-for-1 breakfast at Il Fornaio! Since spring break rates can oftentimes be expensive, saving money on food in vegas is a big win with this package. Plus, with rooms starting at just $68/night, this is a cheap spring break option, and it also includes 50% off for daybeds at The Pool so relaxing and soaking up the sun is that much easier . Running from March first until April 30th, this cheap spring break deal in Las Vegas will help travelers save on any spring vacation to Vegas.
-- Excalibur: For those who want a mix of partying and relaxation for spring break, choose the Excalibur Spring Break Unleashed 2013 package. On the party side, this Vegas deal includes a special drink option at Dick's Last Resort for two-for-one draft beers and two-for-one tequila shots, and for those who want some relaxation, it also includes 10% savings on retail items at The Spa. Plus, anyone who uses this spring break package also saves 25% on a purchase at the Kingdom or Dragon's Lair, so it's perfect for those traveling with kids to Las Vegas.
2. Hard Rock Hotel & Casino: It may be hard to find a better spring break party deal than the Breakin' Vegas Spring Break package at the Hard Rock Hotel & Casino running from February 18th to April 18th. While room rates starting at $199 may seem high at first, those headed to Vegas for spring break partying may actually save money since this deal comes with $199 worth of free drinks and 20% off food. Plus, those who plan to keep the partying going all night long, the Hard Rock Hotel & Casino package for Vegas spring break also includes complimentary entry passes for Body English Nightclub and Afterhours.
3. Palms: Book at the Palms with their Spring Break Escape package and get room rates starting at $69 per night! Since spring break travel causes prices to soar, it can sometimes be hard to stay within budget when it comes to a hotel, entertainment, and food costs. Luckily, this vegas package also includes a $50 food and beverage credit, so there's no need to worry about a spring break budget in Vegas this year.
To access these spring break Las Vegas promo codes and other vegas deals, visit the Las Vegas Coupons page on EarlyVegas.com.
About EarlyVegas.com:
EarlyVegas.com is an authority on how to save money and get the best value when planning travel to Las Vegas. EarlyVegas.com searches the web for the best packages, specials, promotions, deals, and promo code offers that help travelers save and get the most value when booking hotel rooms, tours, and shows in Las Vegas. This article was written by Ariel Abbott, editor of EarlyVegas.com