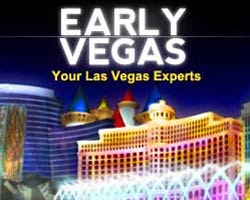 Indulge taste buds during the most important meal of the day at one of these Las Vegas Hotels and restaurants.
(PRWEB) June 05, 2013
Rise and shine and enjoy some of the most delicious breakfast food in Las Vegas. Contrary to popular belief, there is a reason to wake up before 11.a.m. in Sin City. Indulge taste buds during the most important meal of the day at one of these Las Vegas Hotels and restaurants.
Hash House A Go Go at The Quad
The Hash House A Go Go in The Quad Las Vegas is surely one of the best breakfast restaurants on the Strip. The original Hash House is found in San Diego, but the flashier Sin City location is still devoted to serving, "Twisted Farm Food." Patrons can sip on the award winning Bloody Mary to jump start their morning or savor some Indiana Favorites. Not an early riser? No worries—Hash House is open 24 hours a day, serving breakfast, brunch, lunch and dinner. The menu is so impressive, Rachael Ray and Martha Stewart have featured the Hash House. Also, this popular Las Vegas restaurant gets busy at peak hours, but it is worth the wait. In fact, demand for the ranch-style food must be high because there is an additional Las Vegas Hash House at The Plaza Hotel and Casino in Downtown Las Vegas. Come hungry and bring friends, portions run large enough to be featured on The Travel Channel's "Man vs. Food."
Mon Ami Gabi at Paris
A "classic french bistro," Mon Ami Gabi at The Paris Las Vegas is an extremely popular breakfast location. Breakfast runs from 7-11 a.m. daily, with brunch available on weekends, and includes the restaurant's signature french bread. The inside terrace offers comfortable seating and an intimate Parisian atmosphere. If the wait is short enough, choose the outside patio to get a beautiful view of the Bellagio fountains. The delicious Chocolate-Hazelnut Waffles are made from scratch, but first timers need to try the trademark Steak Frites. According to Ariel Abbott, Editor of EarlyVegas.com, Mon Ami Gabi is one of the can't miss Vegas hotel restaurants of 2013. Adults at Mon Ami can indulge in the rolling wine cart, which features more than 80 boutique french wines, and children will be happy to find a "Little Frites" menu. Mon Ami also offers private dining for groups and is available for complete buyout, just be sure to make arrangements in advance. With reasonable pricing, patrons and their wallets will be saying "Oui, oui" to Mon Ami.
The Peppermill Restaurant and Fireside Lounge
Escape the pomp and circumstance of luxury Vegas resorts and opt for a delicious Las Vegas breakfast at Peppermill Restaurant and Fireside Lounge. In a town always promoting the next big thing, Peppermill has been a stand-alone mainstay since 1972. Peppermill ditches swanky elegance in favor of kitschy excess. This timeless eatery serves up much more than nostalgia. The cafe offers breakfast classics such as Steak and Eggs and Old-fashioned Belgian Waffles 24 hours a day. Specialty drinks such as the Chocolate Chip Cookie, Ultimate Mudslide, and Scooby Snack sound pretty irresistible after midnight. Also, the Fireside Lounge is a neon, velvet paradise that serves appetizers and drinks. The lounge is also the perfect place to sip martinis with friends and reminisce.
Tableau at Wynn
Tableau inside the Wynn Hotel Las Vegas offers stunning decor and gourmet cuisine. Nestled poolside off the Tower Suites Lobby, this fine dining locale caters to patron needs, including vegan guests or those with specific food allergies. Inspired by an English Tea Party, guests can take in the beautiful garden view through the large open windows. The sunny rotunda is tucked away at the Wynn, offering a quiet, elegant breakfast, brunch or lunch. Try the White Chocolate and Orange French Toast for breakfast and the Kobe Burger for lunch. Be prepared, fine dining at Tableau comes at a steep price, but it is worth it for special occasions. The American menu is relatively simple, but it is the quality ingredients and atmosphere that impress critics and tourists alike.
Bouchon Bistro at the Venetian
Bouchon Bistro Las Vegas is one of the best places to eat on the Strip. Chef Thomas Keller's creation is located inside the Venetian Las Vegas. This luxurious restaurant boasts affordable prices and modern french cuisine. The mosaic floor, hand painted mural and antique lighting give the space a cultured feel. For the morning, try a Chocolate croissant or sourdough waffles.Besides breakfast and brunch, Bouchon is known for its oyster bar and Roast Chicken. Besides, where else in the world can vacationers ride a gondola to a french bistro?
This article was written by Lauren Yap, Travel Writer for EarlyVegas.com.
About EarlyVegas.com:
EarlyVegas.com is an authority on how to save money and get the best value when planning travel to Las Vegas. EarlyVegas.com searches the web for the best packages, specials, promotions, deals, and promo code offers that help travelers save and get the most value when booking hotel rooms, tours, and shows in Las Vegas.