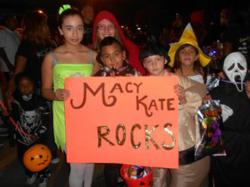 Beyonce, Christina, look out. I have someone for you and she's only 14. Watch out for Macy Kate.
Las Vegas, Nevada (PRWEB) November 07, 2012
Ten years ago, two young people were trick-or-treating in a North Las Vegas neighborhood when they were hit by an errant bullet. After this tragic event, the community decided to come together and provide a safe place for children and their parents to celebrate Halloween without the fear of subjecting their children to the violence that this holiday brings out in the surrounding neighborhoods.
The Halloween Safe event has taken place for the last 4 years, and has recorded attendance numbers over 7,000 youth.
Thousands of little ghosts, goblins, witches, fairies, mermaids, and even a few Michael Jackson look a-likes, flooded the Home Depot Parking lot in North Las Vegas to celebrate Halloween this year. Hundreds of vendors prepped their stations with candy, treats, and free giveaways for the 5:00-9:00 pm rush.
As an extra treat to the community, sponsors lined up a variety of live performances by some of the most popular upcoming, and established child artists in the country. The Halloween Blaze Stage welcomed worlds youngest DJ Baby Chino, Pop Artist Macy Kate, and youth performers from BET's 106 & Park.
Music producer Andrew Lane, who's credits include Backstreet Boys, Irene Cara, Toni Braxton, Snoop Dog, O-Town, Britney Spears, Nicki Minaj, and Little Wayne to name a few, was there, as well as Glee's Daniel Curtis Lee, observing and cheering on Americas next hottest stars.
14 year old Pop singer Macy Kate, who is best known for her new iTunes single "Cover Girl", and for having a voice that has been compared to Christina Aguilera by radio and TV personalities nationwide, was greeted by thousands of fans during her 15 min preview Halloween showcase. Post performance, Blaze Stage Host Big Mike Rob from 106 & Park responded to her performance by shouting out " Macy Kate Killed It". Other responses from 106 & Park personalities said " America be on the lookout, Macy Kate has arrived, she's arrived, and she's here in bold color." Lane's response, "Beyonce, Christina, look out. I have someone for you and she's only 14. Watch out for Macy Kate."
For additional information on this event, or to schedule an interview with the performers, please contact Dani Thompson at danithompson@dntagency.com or visit our website at http://www.dntagency.com.
Marketing and distribution by Fouts Ventures, http://www.foutsventures.com 1-800-277-5221. Questions or comments about this press release contact the Fouts Ventures Editorial Staff http://www.foutsventures.com/ContactUs