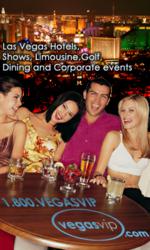 Recent statistics show that nightlife is the first industry to recover from the recession in Las Vegas
Las Vegas, NV (PRWEB) March 31, 2012
According to Las Vegas nightlife coordinator guru Bachelor Vegas, Las Vegas may be experiencing something it hasn't seen in a few years - positive news and an increase in tourism. Sales figures from the fourth quarter of 2011 for the reservations-based company showed a minor increase in revenue of 5%, a welcomed change from the continued gradual decrease over the past three years. Between December 2011 and February 2012, the Las Vegas based business saw a heft increase in active reservations. The figure shot up from 2.7 million reservations to 3.0 million, an 11% increase in just two months. While figures for March have yet to be released, the steady climb in tourism could be indicative of more positive news. It may have taken a few years, but Las Vegas' nightlife may finally be breathing some life back into the city.
Over the past three years, Las Vegas' sorrowed economy has brought about the closing of the Sahara Casino, an established property filled with Las Vegas history, and a pricey foreclosure on the construction of the newer Cosmopolitan of Las Vegas. In 2008, the construction of the $3.9 billion Cosmopolitan of Las Vegas ceased when 3700 Associates, LLC defaulted on a $760 million loan owed to the Deutsch Bank. To ensure the Cosmopolitan hit its grand opening in December of 2010 and settle the defaulted loan, Deutsch Bank purchased the property for $1 billion, almost $3 billion less then the property's worth. On May 16th, 2011, the city oversaw the closing of the 59 year old Sahara Hotel and Casino. In response to the closure, Stockbridge Real Estate Group's chief executive, Sam Nazarian, stated "[t]he continued operation of the aging Sahara was no longer economically viable", more than likely due in part to the 5.6% drop in occupancy rates from 2008 (Las Vegas Convention and Visitor Authority Center, http://www.lvcva.com).
Though tourism may have seen a steady decline from 2008 to 2011, 2012 has been welcoming in a slew of positive numbers supporting Bachelor Vegas' increasing flow of business. According to the LVCVA, from December of 2011 to the closing of January of 2012, tourism saw an increase of nearly 200,000 visitors, causing occupancy rates for the entire city to shoot up 5.2%. This influx of tourism also caused an increase in gaming revenue from $742 million to $925 million, a clear sign that the black cloud may be dissipating. During the times of decreased tourism, hotels were forced to respond in the only logical manner. The average daily room rate from 2008 to 2010 experienced a decrease from an average of $119 per night to $94 per night, a decline of a hefty 21%. By 2011, room rates slowly started to creep back into the $100 range until January of 2012, where they peaked at an average of $113, only $6 less than at the start of the recession. Though the properties themselves may have been suffering, there was an odd correlation between the declining tourism and Las Vegas' night and day life. Despite the $5 billion drop in tourist spending, clubs throughout the city continued to flourish and were doing trying to do business as usual, as if the recession wasn't even happening.
In spite of facing entry charges range anywhere from $20 on an ordinary night to $100 for a special event, tourists continue to flock to such nightclubs as XS, Pure, and Marquee. According to a report released by the LVCVA, the percentage of tourists in Las Vegas that attended hotel-based nightclubs with a cover charge was 5% in 2008, a percentage that continued to remain unchanged throughout the recession. While it could be reasoned that club owners are offering beverage deals and discounts to bring in the steady flow of business, this is most certainly not the case. Simple alcoholic beverages like domestic beers remain a hefty $6 to $10 a bottle while VIP tables and bottle service prices continue to soar up to $20,000. Despite these prices, it is still a rather common occurrence that these clubs hit their maximum capacity or sell out of VIP booths and tables.
On top of thriving nightclubs, Las Vegas continues to see a steady flow of tourists attending the city's many daytime pool parties. Every Sunday at Rehab, Las Vegas' largest resort pool party at the Hard Rock Hotel, thousands of people gather to spend heavily as if money weren't amongst their primary concerns. A pool party at any Las Vegas resort pool could easily generate revenue well into the $100 thousands due to the higher pricing on liquor and potential cover charges. Cabanas at these parties, which generally sell out, cost anywhere from $2,000 to $20,000. If the extensive turn-out at these parties is a sign of anything, it's that people will cut back many facets of their life before even considering decreasing their entertainment budget.
Throughout these dire times, people have lost their homes to foreclosures and have downsized their vehicles for decreased monthly payments. Despite the financial hardships that people have seen in the past, tourism in Las Vegas is slowly returning to the numbers that made this city famous.