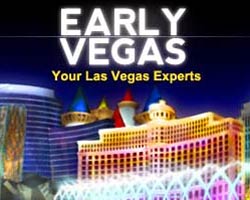 Narrowing down which of the many new Vegas restaurants to check out can be overwhelming, so EarlyVegas.com has taken the guesswork out of the process by gathering a list of the top Las Vegas restaurant openings for Spring 2013.
(PRWEB) April 10, 2013
Across the country, Spring brings warmer weather, blossoming flowers and the promise of a fresh start, while with the change of the seasons in Las Vegas comes a series of exciting new restaurant openings to look forward to. Narrowing down which of the many new Vegas restaurants to check out can be overwhelming, so Earlyvegas.com has taken the guesswork out of the process by gathering a list of the top Las Vegas restaurant openings for Spring 2013. Seasoned Vegas travelers and first time Vegas tourists alike can enjoy the following highly anticipated Las Vegas restaurant openings:
1. Heritage Steak at the Las Vegas Mirage:
Perhaps no Las Vegas restaurant opening is more highly-anticipated than Top Chef judge Tom Colicchio's new Vegas venture at the Mirage hotel. It is scheduled to open late Spring or early Summer, and Las Vegas foodies are waiting impatiently for it to do so. Heritage Steak will take the place of Kokomo's at the Mirage Las Vegas hotel, and meat lovers can rejoice as this Vegas restaurant will be focusing on serving quality meat dishes prepared entirely over an open flame.
2. Five 50 at Aria Las Vegas hotel:
Five 50 at Aria is ready to take the Vegas restaurant scene by storm, with its Las Vegas restaurant opening date scheduled for May 2013. Who doesn't love a slice of pizza after a day of taking in the Las Vegas sights and exploring all of the fun things to do in Sin City? Acclaimed chef Shawn McClain wants to bring a casual Vegas pizza bar to the Aria, and it will be located in the Casino level of the Vegas hotel. That means guests of the Aria hotel can grab a slice (or two) in between gambling sessions or enjoying some Vegas entertainment at the hotel. Executive Chef McClain promises that his pizza will be cooked to wood-fired oven perfection, and will have a unique flavor in every bite. Beer will be another important component of Five 50, with a vast selection of different taps on hand, including a rotating local selection.
3. La Comida:
The Las Vegas restaurant opening for this Fremont East Mexican hotspot has been highly anticipated, and Vegas foodies and travelers alike can't wait to sample some of the mouth-watering cuisine that will be served up courtesy of the Morton Group. La Comida is expected to open in mid- April, and this Vegas Mexican restaurant will have a Latin flavor in its decor, with brightly-colored Mexican tiles and even old Latin-American church pews and stained glass rounding up the dining experience. Expect to chow down on some delicious and authentic Pollo al Horno, Tostada Mixta and Mexican street corn. Once it opens, La Comida will be serving up its tasty fare for lunch, dinner and even brunch.
4. Park On Fremont:
This Las Vegas restaurant just opened its doors to the public in early April, and it already has garnered a lot of buzz and attention in the press and with local foodies. Park On Fremont hopes to keep the momentum going by attracting customers with an atmosphere of unlike any other restaurant in Vegas at the moment. It is part gastropub and part beer garden, with an outdoor venue that will make visitors feel like they've been transported out of Downtown Las Vegas and into a German or Bohemian pub. The decor is shabby chic, and there is even an outdoor bar complete with all sorts of games and activities for patrons to play. The food at this Las Vegas restaurant is noteworthy as well, with plenty of out of the box comfort food selections like a Philly Mac and Cheesesteak Sandwich, Chicken Waffle Sandwich and even Banana Bread Beer.
5. Chronic Tacos:
For a fast and more affordable option of some Mexican food in Vegas, why not check out Chronic Tacos, which is a popular California taco chain that will be opening in the Palms food court, The Eatery, in April. It will be situated next to the Earl of Sandwich, which is also a recent addition to the Las Vegas food scene. This taco chain gained recognition for its fresh ingredients, cheap prices and generations-old recipes for its burritos, tacos and tamales, and locals are impatient to try the scrumptious food for themselves. This is bound to become a late night staple sure to be frequented by party-goers and casino guests after they've had their fill of gambling and the Las Vegas nightlife scene. The chain combines its delicious food with a hip design aesthetic, which is sure to fit right in on the Vegas strip.
About EarlyVegas.com:
EarlyVegas.com is an authority on how to save money and get the best value when planning travel to Las Vegas. EarlyVegas.com searches the web for the best packages, specials, promotions, deals, and promo code offers that help travelers save and get the most value when booking hotel rooms, tours, and shows in Las Vegas.