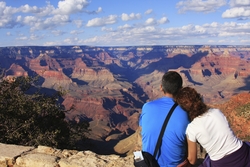 We chose this tour because the operators park at designated space, allowing visitors to walk along the famous Rim Trail until they reach Yavapai Point
Las Vegas, NV (Vocus) July 8, 2010
Tourguy.com, an online tour and travel source for adventure and ecotourism tours, has added a new South Rim Grand Canyon tours to its offerings. The tour, which departs from Las Vegas, includes several photo stops along Route 66.
Route 66, which was sometimes called "Main Street of America" and the "Mother Road" linked Chicago, Illinois to Los Angeles California. Most maps no longer include the historic Route 66, but several states such as Arizona maintains markers.
Stops include Hoover Dam, Route 66 Train Museum, Bright Angel Point on the North Rim, and Yavapai Point on the South Rim of the Grand Canyon. Yavapai Point has excellent views of the Grand Canyon, but parking in the area is extremely limited.
"We chose this tour because the operators park at designated space, allowing visitors to walk along the famous Rim Trail until they reach Yavapai Point," says James Hoke, president of TourGuy.com, LLC. "Yavapai Point is my favorite spot in the Grand Canyon because it provides three unobstructed views and places you closest to the river."
Given the length of the tour, it includes a continental breakfast, packed lunch, and unlimited water and snacks. The total tour time is approximately 14 hours from a complimentary resort pickup to drop off. Transportation is provided on a "VIP class" mini coach.
"The additional stops, such as the Route 66 Train Museum and Bright Angel Point on the North Rim provide adventurers a rare chance to see sites few people ever see," says Hoke. "This makes the tour especially popular for foreign visitors who many never visit the area again and want to take in as much history and natural beauty as possible."
The tour is narrated. Upon request, guests can request an MP3 of the narration in Chinese, Japanese, or Korean. It is also one of most economical Grand Canyon Tours from Las Vegas currently available.
The tour begins at 6 a.m. It includes complimentary pick-up and drop-off from from Strip hotels. All tours have strict limitations on the number of participants. For reservations, call toll free 1-888-801-1575 or visit Tour Guy. For more information on Tour Guy, visit things to do in Las Vegas.
TourGuy.com is the newest tour and travel reservation service with the lowest prices. It offers a variety of tours, ranging from one-and-a-half hours to two days. Group tour arrangements are also available.
###