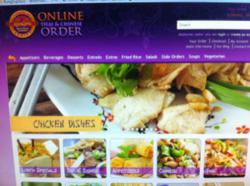 includes pictures alongside brief descriptions of every dish
Las Vegas, NV (PRWEB) November 30, 2012
One of the oldest and most authentic Las Vegas Asian Restaurants in southern Nevada, Kung Fu Thai & Chinese Restaurant, located at the heart of Chinatown Las Vegas, is now the first family-owned restaurant in Las Vegas to develop, and host an online order system for Asian food delivery and takeout orders. While other restaurants partner with nationally established online ordering and delivery sites, Kung Fu forges ahead with its own proprietary site, where shoppers checkout online safely on a secured site with SSL encryption. Orders placed online is freshly prepared from scratch and is ready within an hour from the moment they are placed (unless otherwise specified), with delivery times also around an hour, based on location.
"Kung Fu the top Las Vegas Asian Restaurant routinely delivers to one of the leading service areas in the Las Vegas valley, including resorts, hotels, and convention booths on and around the Las Vegas Strip," says Alan Wong, general manager of Kung Fu Restaurant. "Development of the new online menu and ordering system has been both a challenging and rewarding six month process. It was challenging because we wanted the experience to appear effortless and rewarding because our clients are as enthusiastic about it as we all are."
"Part of the euphoria is related to the online menu which includes pictures alongside brief descriptions of every dish listed on the restaurant's extensive menu", according to Wong. Kung Fu Thai & Chinese features over 250 authentic Thai and Chinese dishes.
Prior to the recent launch, Kung Fu Restaurant listed menu items like most restaurants, with the name of a dish and a description being posted online. While the scale of the menu had always made a positive and lasting impression, many patrons usually gravitate toward ordering what's familiar, like these two top ten dishes, Mongolian beef Angus Certified® being among the most popular Chinese dishes and Pad Thai among the most popular Thai dishes. With the new online menu, patrons can see all of the dishes prepared by the family's master chef, which encourages them to stray from ordering the same entree or appetizer every time.
According to Wong, "We always strive to introduce people to the diversity of authentic Thai cuisine so I like to encourage the adventurous to order their favorites along with at least one new dish on every visit." "With technology, we are making it easier than ever now. Even some of our dine-in patrons are signing into our free Wi-Fi to see the dishes before they place their orders. Most chefs know that food touches all five senses, including sight. So it only makes sense to introduce the visual experience sooner, well before the meal is brought to the table."
We haven't stop with simply enhancing the visual online experience, Wong says the restaurant is endeavoring to make the online ordering experience as social as possible. Patrons, after signing up for an account, will be able to rate individual dishes, and write reviews specific to each dish, directly on the website. In addition Asian food lovers would be able to share their thoughts directly on Facebook, Twitter, and other social networks. The online ordering system also tracks what dishes are being ordered the most for takeout or delivery.
"When people see that Almond Chicken or Barbecued Pork Chop Suey is popular, they are more likely to add that dish to their order, even if they wouldn't of ordered it otherwise," said Wong. "All together, the sharing, rating, and tracking attract curiosity. It will definitely influence our kitchen decisions over time as well."
"Moving toward a digital ordering system adds versatility to the restaurant," says Wong. Years ago, when his parents opened the original Kung Fu Restaurant on 3rd street and Fremont downtown Las Vegas in 1973, printed menus were always a big deal for planning, design, and printing. "Although most restaurants will always have printed menus, for the foreseeable future," Wong says there may be a day when printed menus are obsolete. "One day, all menus might be on computer tablets."
"I love the idea of being able to add a new dish to the digital menu for a few weeks to try it out and then taking it off without having to print new menus or specialty and seasonal menus," he said. "Going Digital makes it easier to experiment, even if some staple items on our menu, like the venerable Chicken Fried Rice, will never change."
Kung Fu Las Vegas Asian Restaurants take pride in serving the most authentic Thai cuisine. Many of the dishes are old family recipes that were passed down from one generation to the next. Wong's parents were so meticulous in preserving some dishes that they built the early foundation for Thai and Asian grocery imports to Las Vegas by opening Chinese Oriental Market on the East side of Las Vegas during the mid-1970's. Today, Kung Fu Restaurant is well known throughout Thailand for its dedication to preserving traditional Thai cuisine.
To review the online ordering system, visit https://www.kungfuplaza.com/online_orders/. Kung Fu Thai & Chinese Restaurant delivers within a five-mile radius and is located at 3505 S. Valley View Blvd., which is just west of the Wynn Resort on the Las Vegas Strip. For information, reservations, takeout, delivery, or for us to cater your next event, call 702-247-4120.
Founded in 1973, Kung Fu Thai & Chinese Restaurant is the oldest and most authentic Chinese and Thai restaurant in Las Vegas. It is open every day from 11 a.m. to 11 p.m. The online ordering system is also available daily, 11 a.m. to 10 p.m. but anyone can view their Las Vegas Asian Restaurants menu at any time. The average entree is under $10 and most patrons prefer to order family style.
Contact Information:
Name: Kung Fu Thai & Chinese Restaurant
Address: 3505 S Valley View Blvd Las Vegas, NV 89103
Phone: 702-247-4120
website: http://www.kungfuplaza.com/
Media Contact: Alan Wong