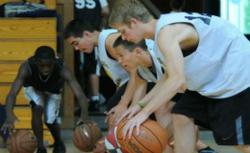 We are very proud to partner with Coach Stein and Coach Henry on what should be an incredible day of basketball and improvement.
San Rafael, CA (PRWEB) July 06, 2012
The fall basketball clinic taking place on October 26, 2012 will be directed by player development Coach Alan Stein of Stronger Team. Coach Stein is one of the premier skill development coaches in the country working with players of the highest caliber, including Kevin Durant of the Oklahoma City Thunder and Stephen Curry of the Golden State Warriors.
Stronger Team offers the nation's premier basketball specific training program for junior high, high school and college players. The Stronger Team program is designed to meet the specific needs of a basketball player for injury prevention (ankles, groin, and low back) and performance enhancement (run faster, jump higher, and block out harder). Basketball players are not Olympic lifters, bodybuilders, or track athletes…so they shouldn't train like them! There is a huge difference between being fit and being in basketball shape. Stronger Team's results speak for themselves.
Stein's passion, enthusiasm, and innovative training techniques make him the world's leading expert on productive training for basketball players. He is a performance consultant for Nike Basketball as well as the head conditioning coach for the annual Jordan Brand All American Classic and the Nike Summer Skills Academies. Alan is a Camp Coach at the prestigious NBA Players Association's Top 100 Camp as well as the Chris Paul CP3 Elite Backcourt Camp. He served as the conditioning coach for the McDonald's All American game for 5 years.
Assisting Coach Stein during the clinic will be DeShawn Henry of Durango High School. Coach Henry is the Head Coach of Durango High School and has built a strong reputation for his player's success on the court and their growth and development off the court. Coach Henry is an active member of several national coaches associations; National Federation of High School Coaches, National Association of Basketball Coaches, and National Black Coaches Association.
About US Sports Camps and Nike Basketball Camps
US Sports Camps (USSC), headquartered in San Rafael, California, is America's largest sports camp network and the licensed operator of NIKE Sports Camps. The company has offered summer camps since 1975 with the same mission that defines it today: to shape a lifelong enjoyment of athletics through high quality sports education and skill enhancement.
Players, Coaches, Parents and others interested in the 2012 Nike Basketball Camps can visit http://www.ussportscamps.com/basketball or call 1-800-645-3226.