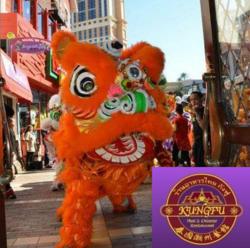 The Lion Dance is an important start to Chinese New Year
Las Vegas, NV (PRWEB) February 11, 2013
Popular Thai and Chinese restaurant, Kung Fu, will be hosting a traditional lion dance on Tuesday, February 12 at 5:00 pm in celebration of Chinese New Year. The costumed ritual will be performed by dancers from the Lohan School of Shaolin.
The lion dance is often confused with the dragon dance, which comes from the same tradition, but is less common. The lion dance's Chinese roots trace back thousands of years, and is performed to drive out evil spirits causing bad luck for business owners.
Las Vegas Chinatown Chinese & Thai Restaurant Kung Fu general manager Alan Wong stated, "The Lion Dance is an important start to Chinese New Year. It rids the business of bad spirits. We are excited to host the performers from the Lohan School of Shaolin, and hope people come out to enjoy great food and an excellent performance."
The dance is a two-person performance that must be executed without error. The Shaolin dancers are actually highly trained martial artists, which enables them to perform the ritual with grace and athleticism.
Along with the duo of performers, the dance is accompanied along with drums, cymbals, and ornate costumes that add to the theatrics. The ritual begins with the lion approaching the doorway of the business using specific movements while sniffing for evil spirits. Once the lion enters the Las Vegas Chinatown Restaurant location, decorative envelopes and a head of lettuce is offered as a sign of money and prosperity.
The Lohan School dancers have performed the lion dance at several venues and event including a 2001 performance filmed for the Hollywod motion picture "Rush Hour 2" starring Jackie Chan and Chris Tucker.
For more information about the upcoming Lion Dance performance visit Kung Fu Thai & Chinese Restaurant on their Facebook at: https://www.facebook.com/KungFuPlaza
About Kung Fu Thai & Chinese Restaurant
Kung Fu Thai & Chinese Restaurant is Las Vegas' original Thai and Chinese food eatery serving the area for over 36 years. Kung Fu Thai has a reputation for maintaining consistency in flavor, essence, aroma and taste. All of their dishes are made without MSG and feature the freshest ingredients in Las Vegas at an affordable price. In addition to great food, Kung Fu Thai offers a full selection of beer, wine and spirits along with delivery, catering services, online ordering and free Wi-Fi.
Contact:
Kung Fu Thai & Chinese Restaurant
3505 S Valley View Blvd Las Vegas, NV 89103
Contact Name: Alan Wong (General Manager)
Contact Phone: 702-247-4120