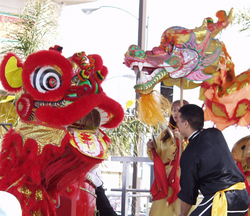 The qualities associated with entering The Year of the Tiger are all very positive
Las Vegas, NV (Vocus) February 8, 2010
While The Year of the Tiger is associated with unpredictability and massive change, it also represents power, passion and courage. The same can be said about Valentine's Day, which is historically tied to a priest who performed wedding ceremonies despite the direct outlawing of marriage of young men by Emperor Claudius II who believed single men made better soldiers.
"The qualities associated with entering The Year of the Tiger are all very positive," said Wong. "While the first day of the Chinese New Year is a time when families visit the oldest member of their families, this could also be an excellent opportunity to introduce new love interests to senior family members."
On the first day of Chinese New Year, Wong said his Las Vegas Chinese restaurant will be recommending chicken dishes, which coincide with the food associated with the Year of the Tiger. However, tradition suggests diners consider vegetable dishes as many people refrain from eating meat on the first day.
"Buddhists, especially, tend to refrain from eating meat on the first day of the new year," says Wong. "Traditionally, I am told they believe it ensures longevity for them. But there are many traditions, and those traditions are as diverse as Asian peoples."
Wong, whose parents immigrated to the United States from Thailand in the 1960s, remember celebrating with people of Chinese origin by preparing a banquet to pay respect to their deities. Wong expects many of the other Asian shops near his family's restaurant will be handing red banners on the outside of their stores. Red symbolizes good luck in the new year. Red is also associated with Valentine's Day.
"So very often, people feel torn by which traditions to follow in the West," said Wong. "Maybe they don't need to make a choice of one or the other, but find a special way to observe both."
According to Wong, inviting new love interests to a family reunion at an authentic Las Vegas Chinese food and Las Vegas Thai food restaurant, will lend something to both celebrations. The last time the Chinese New Year fell on Feb. 14 was 1972.
To review a complete menu, visit http://www.kungfuplaza.com. Kung Fu Plaza delivers within a three-mile radius and is located at 3505 S. Valley View Boulevard, which is just east of the Fashion Show Mall on the Las Vegas Strip. For reservations, call 702-247-4120.
Founded in 1973, Kung Fu Plaza is the oldest and most authentic Chinese and Thai restaurant in Las Vegas. It is open daily from 11 a.m. to 11 p.m. The average entree is under $10 and most patrons order family style.
# # #