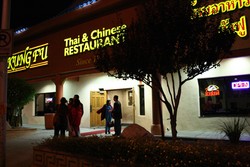 Mother's Day in Thailand is a beautiful event. People all around Thailand raise flags and decorate their homes with the portrait of her majesty and local organizations decorate with garlands and colorful lights
Las Vegas, NV (Vocus) May 8, 2010
While many restaurants offer Mother's Day brunches and specials, Kung Fu Plaza, which is the oldest and most authentic Chinese and Thai restaurant in Las Vegas, has adopted an Eastern tradition for Mother's Day. Kung Fu Plaza has become a supporter of the United Way this year.
"Mother's Day in China and Thailand is celebrated much like it is here in the United States, although Thailand observes Mother's Day on August 12," says Alan Wong, general manger of Kung Fu Plaza. "What is a bit different is both countries honor mothers and also focus their attention on the poor."
In China, Project Happiness is one of several projects designed to help mothers in that country's poverty-stricken areas. And in Thailand, August 12 was commemorated to honor the birthday of Her Majesty Queen Sirikit, who is regarded as the Mother of all her people because of her benevolence toward the needy and poor in the nation.
China and Thailand have also adopted elements of Mother's Day from the west. In addition to helping curb poverty, sons and daughters in China honor their mothers with carnations on the second Sunday in May. Carnations were chosen because the flower's dense petals symbolize a mother's care and love. In Thailand, they give white jasmine flowers or garlands to their mothers on August 12 as a symbol of maternal love.
"Mother's Day in Thailand is a beautiful event. People all around Thailand raise flags and decorate their homes with the portrait of her majesty and local organizations decorate with garlands and colorful lights," says Wong. "Of course, most of the world, including China, celebrates on the second Sunday in May, just like we do in the United States. While people offer many suggestions to make Mother's Day more like China's observance, simply sharing a meal with family and friends is always appreciated by mothers everywhere."
Wong, whose parents immigrated to the United States from Thailand via China in the 1960s, says both cultures embraced Mother's Day because of their respect for elders and family. He says it feels good to introduce their contributions to this special day, specifically the support they extend their communities to help poor mothers too.
Kung Fu Plaza maintains a menu that includes almost 800 Asian food dishes, predominantly from China and Thailand. The menu selection represents one of the most expansive Chinese food and Thai food menus in the region. To review a complete menu, visit Las Vegas Restaurant.
Founded in 1973, Kung Fu Plaza is the oldest and most authentic Chinese and Thai restaurant in Las Vegas. It is open daily from 11 a.m. to 11 p.m. The average entree is under $10 and most patrons order family style. For reservations, call 702-247-4120.
###