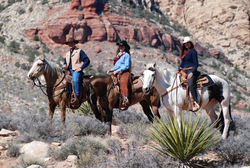 There were three routes that spanned southern Nevada: the Armijo route, Mojave route, and the main route that crossed through Las Vegas and what we now know as the Red Rock Canyon National Conservation Area
Las Vegas, NV (Vocus) April 7, 2010
Vegas Horseback Tours is setting new records, with its variety of trail rides that follow the same trails as Mexican caravans between 1829 and 1848. The Old Spanish Trail, which was originally established by Native American footpaths that crossed the West, led traders and frontiersmen from Santa Fe to Los Angeles.
"There were three routes that spanned southern Nevada: the Armijo route, Mojave route, and the main route that crossed through Las Vegas and what we now know as the Red Rock Canyon National Conservation Area," said Ruben Villegas, Las Vegas Horseback Specialist. "The trails fell out of use after the Mexican-American War, which made them ideal for many outlaws we associate with the wild West."
According to Ruben Villegas most of the commercial routes were established by Jose Francisco Armijo, who was among the first to accept the challenge of establishing a direct land route between the provinces as a merchant. The average journey lasted six to eight weeks. One route preserved by the Old Spanish Trail Association is named after Armijo.
Prior, portions of the Old Spanish Trail were also used by Jedediah Smith, Kit Carson, and Etienne Provost. These early traders connected ancient Native American trails that were used by the Ute, Paiute, Comanche, and Navajo people. Today, some mule train trails can be identified by tracks only 36 inches wide whereas wagon trails are six feet across.
Vegas Horseback Tours features its Old Spanish Trail ride during a four-hour tour that includes up to two hours of saddle time and lunch. Lunch consists of a chicken sandwich or hamburger, baked beans, potato salad or french fries. The tour also includes a stop at nearby Bonnie Springs Ranch and its petting zoo.
"We attribute the record reservations to people looking to connect with our country's history as well as horseback riding enthusiasts who haven't been riding in the cold weather in the East," said Ruben Villegas. "What I love so much about it is that it brings a variety of people with very different interests together."
All excursions also include complimentary pick-up and drop-off from Strip hotels. A limited number of horses are available per tour. For reservations and more information, call 888.584.9059 (local 702-664-2585) or visit LAS VEGAS HORSEBACK TOURS
Vegas Horseback Tours is the oldest horseback riding tour company in the area with the lowest prices. It offers a variety of tours, ranging from one-and-a-half hours to overnight. Group tours frequently include other experiences upon request, especially when they include team-building activities.
###