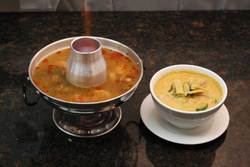 Student meals are often high in fat, additives, and preservatives
Las Vegas, NV (Vocus) May 7, 2010
Allen Wong, general manger of Kung Fu Plaza, a Thai Restaurant in Las Vegas, has taken a real interest in first lady Michelle Obama's national campaign to fight childhood obesity. While most of the campaign is geared toward mobilizing public- and private-sector resources to coordinate public information, Wong believes any healthy food campaign ought to occur in the public school system.
"Student meals are often high in fat, additives, and preservatives," said Wong. "So far, the only defense various school districts have offered up is that brown bag lunches tend to be less healthy. I don't understand when less adequate became an acceptable replacement for less than adequate. Make better meals at school and kids won't pack brown bag lunches."
As a point of comparison, Wong cites a Feb. 2008 article in Edutopia that compared school lunches in the United States, Russia, and Japan (http://www.edutopia.org/lunch-around-the-world). Americans are eating turkey dogs and tater tots. Russians are eating beef, beet soup, and rye bread. And Japanese students are eating wonton miso soup, spinach and Chinese cabbage, rice, and milk.
"Thai food is the healthiest cuisine on the planet. The ingredients have numerous health benefits, including anti-oxidants and immune-system boosters," said Wong. "Why aren't more programs developing affordable menus that bring the best of the world's foods into cafeterias instead of the worst?"
Wong said that while he has an affinity for Thai food, the solution doesn't have to be Thai cuisine. The National Farm to School Network program is one step in the right direction, even if Wong's home state is one of only two states that has not made any progress to improve school lunches. The national program is committed to delivering farm fresh foods as opposed to relying on caterers. Forty-three states have operational programs and five more are committed to them.
"I became more aware of the Clark County School District lunch program after a friend of mine mentioned that his child's school rewards children with candy and other sweets," said Wong. "When I asked him what they had for lunch, he said the menu read like a fast food restaurant."
Wong says he made a joke about how his friend's children ought to be eating Thai food. Rather than laugh it off, his friend said such a change would be welcomed, adding that Obama's national campaign to fight childhood obesity should begin by fixing what the government serves children for lunch.
To review a menu consisting of more than 800 Chinese and Thai dishes, visit http://www.kungfuplaza.com. Kung Fu Plaza delivers within a three-mile radius and is located at 3505 S. Valley View Blvd., which is just west of the Fashion Show Mall on the Las Vegas Strip. For reservations, call 702-247-4120.
Founded in 1973, Kung Fu Plaza is the oldest and most authentic Chinese and Thai restaurant in Las Vegas. It is open daily from 11 a.m. to 11 p.m. The average entree is under $10 and most patrons order family style.
# # #