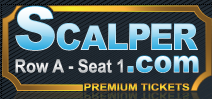 That Show Was Awesome !
Las Vegas, NV (PRWEB) August 15, 2012
http://www.Scalper.com sells tickets to some of the hottest events in Las Vegas. Las Vegas is one of the capitals of entertainment in this world and night life in this city is unrivaled. A survey was conducted with our customers and here are the results for the Top 5 Venues in Las Vegas.
Discounted tickets available on http://www.Scalper.com right now.
1. The Joint at the Hard Rock
The Join is considered one of the most authentic venues in Las Vegas. With a capacity of 4,000 people, the place serves as an intimate destination for any concert. It was voted as the No. 1 Hottest Club in America by Billboard Magazine in 2011. The venue has featured performances by The Rolling Stones, David Bowie, Coldplay, Oasis, Alicia Keys, Nine Inch Nails, and The Killers.
2. Mandalay Bay Events Center
Right on the Vegas Strip, the Mandalay Bay Events Center is an indoor arena that holds 12,000 seats. It is a hot spot for many music and mixed martial arts events. It has held over 20 UFC events and has hosted massive music headliners like Katy Perry. KISS and Motley Crue will be playing at the venue later this month.
3. MGM Grand Garden Arena
Located at 3799 Las Vegas Boulevard South, the MGM Grand Garden Arena is home to concerts, championship boxing and premier sporting and special events. Patterned after New York's Madison Square Garden, the arena offers comfortable seating for as many as 16,800 people with excellent sight lines and state-of-the-art acoustics, lighting and sound. Britney Spears first performed at this venue.
Trade Stocks? Start Making 1000% gains, join the free newsletter at http://www.pspicks.com
4. Colosseum at Ceasar's Palace
If there is a venue to check out in your lifetime, it would have to be the Colosseum at Ceasar's Place in Las Vegas. It has been home to the most iconic names in entertainment is one of the most technologically advanced showrooms on this planet. The venue has an estimated seating capacity of 4,100. Many big name artists like Elton John, Celine Dion, and Shania Twain are expected to perform at the venue later this year.
5. The Smith Center
The Smith Center is home to the Las Vegas Philharmonic and Nevada Ballet Theatre and features international music, and dance companies. The building is the first performing arts center in the nation to be LEED certified and has a capacity of 2,050. The three main venues at the Smith Center are the Reynolds Hall, Cabaret Jazz Theater, and the Troesh Studio Theater. The Broadway hit Wicked is coming to the Smith Center later this year.
Now is a good time to buy Las Vegas tickets. The shows sell fast and most people travel to watch their favorite performer. This traveling involves some planning. The pros suggest buying tickets weeks before the event so that can be properly planed out. In some cases it may also save a little money on hotel, tickets etc. Visit http://www.Scalper.com to browse the Vegas ticket inventory.
In addition to Football tickets Scalper carries a large selection of Concert Tickets, Las Vegas, Tickets, NBA Tickets, Theatre and Baseball Tickets.