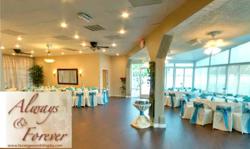 take advantage of our winter ceremony and reception cyber special
Las Vegas, NV (PRWEB) December 17, 2012
Always & Forever Weddings and Receptions is announcing a 20% off all-inclusive wedding and reception packages for a limited time. December is a popular time to get married in Las Vegas with many couples choosing to tie the knot over the holidays. Las Vegas wedding venues Always & Forever bridal consultant and GM Raquel Ryan states, "There's nothing more romantic than a winter time wedding. What better way to spend the holiday season than getting married to the person you love. The holidays are already special, but they become even more so now that the couple will be celebrating an anniversary during this time of year as well."
Always & Forever's Las Vegas wedding venues are no ordinary Las Vegas "Strip Chapels." They offer full service weddings and receptions at various indoor and outdoor locations around the Las Vegas area. Happy couples can choose from beautiful indoor and outdoor Las Vegas wedding locations including a sprawling luxury estate as well as outdoor locations such as the lakeside garden, grand lakeside, Valley of Fire, and the gazebo on the lake.
Always & Forever wedding and reception packages are perfect for large or small weddings. People renewing their vows can also take advantage of the 20% off cyber special. When asked about why people choose wintertime weddings, Ryan stated, "There are a variety of reasons winter weddings make a lot of sense. Family usually have vacation during the holidays so they are able to attend, travel specials are easy to find, and the overall cost for a wedding and reception can be as much as 50% less. And remember, to take advantage of our winter ceremony and reception cyber special people simply need to mention the cyber special when they book."
To learn more about Always & Forever Weddings and Receptions Las Vegas wedding venues and to take advantage of their 20% off cyber special, visit them on the web at http://lasvegaswedding4u.com/ or contact one of their friendly wedding consultants at 702-318-5683 or toll free at 800.259.2978.
Company: Always & Forever Weddings and Receptions
Address: 2902 Lake E Dr Las Vegas, NV 89117
Contact Phone: 702-318-5683
Contact Name: Raquel Ryan