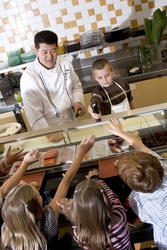 New York, NY (Vocus) June 18, 2009
Master Sushi Chef "Fuji" hopes you're hungry this summer because SushiSKool is in session at Loews Lake Las Vegas Resort and Loews Miami Beach Hotel.
During Summerfest, Loews Lake Las Vegas Resort's Master Sushi Chef Osamu "Fuji" Fujita and Loews Miami Beach Hotel's Tung Nguyen will be teaching precocious youngsters all about the art of sushi.
Top 5 Reasons Why Sushi's Kool for Kids
5. It's the only time it's acceptable to play with your food, because you can eat with your hands! It adds a fun element to dining out with Mom and Dad.
4. It's an easy way to sneak in vegetables, including spinach, carrots, avocado, asparagus and other nutrient-rich options.
3. Cool names sound appetizing. Dragon roll, tropical roll, SoBe roll, caterpillar roll and even the Las Vegas roll intrigue older children to try something out of the ordinary. When making sushi rolls at home or in SushiSKool, encourage kids to brainstorm their own wild names for their creation.
2. Kids take pride in eating something they've made themselves and sushi is an easy activity to set up for them at the kitchen table before dinner time.
1. Creativity. Making sushi is like an art project. The colors and textures of new foods like mushrooms, bell peppers, tuna, salmon and even nori (seaweed) are the paint to your child's rice canvas. The fun of putting a roll together makes kids more likely to want to taste their artful creation!
On Saturday afternoons, the one-hour class will coach the next generation of sushi lovers on the basics of ordering, using chopsticks, eating different types of sushi and sushi etiquette. SushiSkool will take place in Marssa Restaurant at Loews Lake Las Vegas Resort and in Sushi SoBe at Loews Miami Beach Hotel. The class, which includes plenty of tasting, is $20 per child.
SushiSKool was created by Master Chef Fuji at Loews Lake Las Vegas Resort in the summer of 2008. Based on the success, Chef Fuji and Sushi Chef Tung have developed a similar program for children and their families at Loews Miami Beach Hotel.
Kids will sample gari (pickled ginger), wasabi (Japanese horseradish), shoyu (soy sauce) and sip ocha (green tea) while mastering the finer points of chopstick strategy. At Loews Lake Las Vegas, they will also take home a "Sushi Savvy" gift bag filled with a SushiSKool T-shirt, Chef Fuji's Guide to Sushi, chopsticks, and a discount card for mom and dad to enjoy dinner.
If parents want to join in on the fun, there is a seat to watch the class. Parental admission includes wine, an assortment of maki rolls and discounts for an adults-only class ($25 per adult with a child participating in the class). Sushi & Sake School, for adults 21 and over, will offer parents the opportunity to taste a variety of sake as well as how to create a top-notch sushi roll.
SushiSKool is available beyond summer at both Loews Lake Las Vegas Resort and Loews Miami Beach Hotel and is subject to availability.
Master Sushi Chef Fuji and Chef Tung Nguyen:
A third generation sushi chef whose father was the personal chef for the Emperor of Japan, Chef Fuji began his career as an apprentice to one of only three master chefs in Tokyo. He is the only sushi chef in the U.S. to earn the Japanese Chefs Association's recognition of achievement in 2006-2007. Chef Fuji is the Corporate Sushi Chef for Loews Hotels, based at the Loews Lake Las Vegas Resort, and was the "creative mind" behind the concept and development of Sushi SoBe at Loews Miami Beach Hotel.
Chef Fuji's protégé, Tung Nguyen, holds down the fort at Sushi SoBe at Loews Miami Beach Hotel. As the Head Sushi Chef, Tung is in charge of all the day-to-day aspects of the sushi bar and lounge. Spending more than four years training with Chef Fuji in Lake Las Vegas, Chef Tung marries the fundamentals and knowledge of the skilled Chef Fuji with his young, vibrant techniques to make Sushi SoBe one of the sushi hot spots in South Beach.
Marssa features a fresh mix of Osaka style cuisine and western flavors in the Loews Lake Las Vegas Resort. Executive Master Sushi Chef Fuji has created a unique menu that offers guests the opportunity to sample his unique approach to Pacific Rim cuisine while relaxing in the warm and inviting dining room or at the sushi bar. The restaurant also offers an extensive wine and sake list to match the flavors of Chef Fuji's innovative cuisine. For reservations and information, please visit http://www.loewshotels.com or call 702-567-6000.
Sushi SoBe at Loews Miami Beach Hotel serves traditional sushi favorites with our very own South Beach twist. Signature items include Seared Big Eye Tuna, Tropical Salmon Roll, Sushi SoBe Roll and the one-of-a-kind Tuna Cocktail. This sushi bar and lounge also features original sake cocktails and an array of Asian-inspired desserts. For more information, please visit loewshotels.com or call 305-604-5420.
Contact:
Sarah Murov
Loews Miami Beach Hotel
305.604.3905
Jennifer Duffy
Loews Lake Las Vegas Resort
520.529.7936
# # #