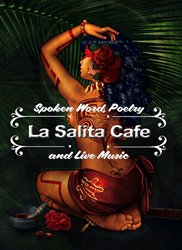 Poetry is NOT dead! We champion the poets, artists and filmmakers while helping to make the connection between the artists and audience!
(PRWEB) October 13, 2014
La Salita Café, located in San Juan, Puerto Rico, has launched a Kickstarter campaign to further their mission in supporting the local poetry, spoken word and traditional music scene. "Poetry is NOT dead!" says Jessica Munoz-Vuillet, the Founder of La Salita Café. While other venues turn to commercial and mainstream entertainment, La Salita Café pledges to be a welcoming place for local artists to perform, collaborate and celebrate their talents. With a fundraising goal of $65,000, La Salita Café aims to ignite a Puerto Rican artistic awakening.
"We champion the poets, artists and filmmakers while helping to make the connection between the artists and audience," says Munoz-Vuillet. This, she believes, will empower the local community in San Juan and the larger Puerto Rican community to retain and build upon their rich cultural heritage.
La Salita Café is an eco-friendly café that will feature spoken word poetry, live music, and a delectable array of traditional Puerto Rican dishes. The Café will accompany its fine cuisine with live music performances, poetry readings, art viewings, and film screenings from local artists. Live performances also include Bomba and Plena music, which use a range of traditional instruments to tell stories and engage the audience directly. This folk sound is rich with Puerto Rican history, a sound that ultimately paved the way for the salsa explosion in New York City.
The Café's website features a blog, which discusses Puerto Rican culture, history, and tradition, as well as a Poets Corner, where local poets can share or discover fantastic local poetry.
Also featured at La Salita Café will be a healty twist to Puerto Rican cuisine. Puerto Rican cuisine boasts bold flavors derived from a rich history, with influences from Taino (a native Arawak Caribbean culture), Spanish, American, and African cuisine. Puerto Rican cuisine is known for its savory flavors, creative use of seafood, and of course, lechón asado, or barbecued pig. La Salita Café's menu will be sourced exclusively from local, organic, and sustainable farms, and will include locally grown, house-brewed artisanal coffee.
Through linking similar creative organizations, La Salita Café hopes to help the community define and work toward common goals. By acting as the bridge, it would allow these organizations and visitors to show their support by encouraging artists to give back to the community, as well as help further the success of Puerto Rico's local artists. Munoz-Vuillet is alarmed at the way mainstream, particularly in San Juan's performance venues has forced traditional artists to retreat to isolated rural communities, depriving San Juan of a vital nexus of working traditional artists. She worries Puerto Rican children will grow up knowing only Taylor Swift, not Plena Libre.
"Our goal is to inspire positive social consciousness within the creative circle. We further hope to instill these changes by building upon a foundation of community, dialogue and culture," says Munoz-Vuillet. It's an ambitious goal to go head on with the popular mainstream; but with her formula of passion, focus, dedication and community she believes she can help to preserve the culture and revive traditional music while remaining socially responsible.
If you are as inspired as Munoz-Vuillet and the artists that need this artistic den, we encourage you to visit the Kickstarter campaign and see what you can do to help Puerto Rico's talent express the height of their creativity in a safe, independent space.
About La Salita Café
La Salita Café is a product of our shared beliefs, values, community, and dreams. We have worked tirelessly and relentlessly to bring our ideas to life. Our largest driving force is the need to help and support our local community. Puerto Rico is a place where cultural roots and expression are an integral part of our everyday lives. The island's local talent is not receiving enough support or opportunities for exposure, and we hope to offer a solution with La Salita Café.
Contact Us
http://www.lasalitacafe.com