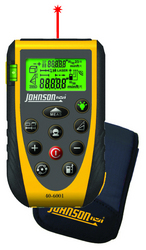 The Johnson LDM is fully loaded with more features, the same or better accuracy and a retail price 20% lower than comparable products. While the competition sells for over $200, Johnson's LDM is near $165
Mequon, WI (Vocus) July 28, 2010
Johnson Level & Tool, the U.S. leader in spirit levels and laser levels, has expanded its measuring tool category with the introduction of a Laser Distance Measure as a compliment to their power tape measures, long tapes and measuring wheels.
The new 40-6001 is accurate up to 1/16th of an inch over a distance of 165 feet. Features include a patented sound activated measuring mode, 10 measurement memory, indirect (Pythagoras) measurement capability for length and height and single distance, area (square) and volume (cube) measurements, all with a large backlit LCD screen and a compact size. Designed to work indoors and outdoors, the new Laser Distance Measure is ideal for carpentry, framers, flooring, plumbing, electrical, HVAC, appraisers, painters and MRO.
'We designed the Johnson Laser Distance Measure to maximize value without sacrificing quality', said Jeffrey Johnson, Director of Product Development for the Laser Distance Measure. "The Johnson LDM is fully loaded with more features, the same or better accuracy and a retail price 20% lower than comparable products. While the competition sells for over $200, Johnson's LDM is near $165," Johnson continued.
Johnson Level has added over 60 new products in the past three years, focusing on creating the industry's broadest and deepest lines of contractor tools in key categories related to leveling, layout, measurement and marking.
About Johnson Level
Johnson Level & Tool Mfg. Co., Inc. is a leading manufacturer and marketer of "Job Site Tough" professional quality spirit levels, laser levels and other construction measuring tools. Johnson Level employs patented and proprietary technologies to develop highly accurate and durable layout tools, leveling tools, squares, measuring tools and marking tools for construction projects on the jobsite. The company's global customer base includes contractor supply outlets, hardware distributors and major retail chains. Johnson Level is headquartered in Mequon, Wisconsin.
Johnson Level & Tool Mfg. Co., Inc.
Robert Johnson
(262) 242-1161
###