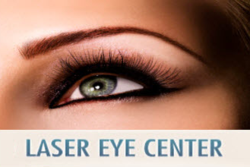 The most recent addition to Laser Eye Center's already long list of services is a customized contact lens fitting.
Los Angeles, CA (PRWEB) October 18, 2012
With eight locations and 26 years of experience, Laser Eye Center is known as the leading facility in Southern California for LASIK procedures. LASIK surgery is an outpatient procedure that corrects an array of visual impairments, allowing the patient freedom from corrective eyewear. Although this is the center's most popular procedure, they offer several other treatments to help achieve perfect vision. The most recent addition to Laser Eye Center's already long list of services is a customized contact lens fitting.
This news will come as a relief to individuals suffering from Keratoconus, a condition that causes cornea degeneration. This degeneration creates an asymmetry of the eye's surface as well as blurred vision, making contact lenses necessary but difficult to wear. With a simple appointment, Laser Eye Center is able to take the necessary measurements to fit these patients for rigid gas-permeable contact lenses. The fitting is painless and once complete the patient simply fills a prescription just like with traditional lenses. "We want all of our patients to be as comfortable as possible. The contact fitting is a great alternative for those patients who can't get LASIK or wear regular contacts," explains Dr. Shammas, head surgeon at Laser Eye Center.
Another added benefit to these contacts, known as RGP lenses, is their longevity. After the initial adjustment period, patients are able to keep these lenses in for up to a week without worrying about changing them out. This can be a big relief to someone with Keratoconus who before could only wear contact lenses for a very short period of time, if at all. Elias N., a patient of Laser Eye Center, recently had the procedure done and was thrilled with how it changed his life. "I am training to be a firefighter, which means a lot of working out and practice drills. Having contacts is so much easier, and safer, than dealing with glasses."
Patients considering getting a contact lens fitting or LASIK are eligible for a free consultation at the Laser Eye Center. There are several payment options available and most procedures are even tax deductible, since the surgery is classified as corrective.
About Laser Eye Center
Laser Eye Center is the most comprehensive and respected name in LASIK and refractive eye surgery throughout Southern California, with locations in the Inland Empire, Orange, and Los Angeles County. Since 1986, the doctors of Laser Eye Center have successfully performed over 200,000 individual LASIK cases. For more information, or to schedule a consultation, call 1-800-805-2737.
# # #
Powered by ITC