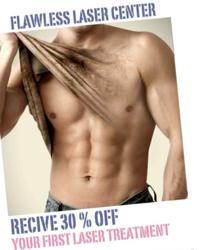 "Come Gorgeous Leave Flawless." Our expertise combined with high quality product and latest technology in laser hair removal is guaranteed to deliver the best result for all skin type, (877) 708-9220
Los Angeles, California (PRWEB) October 30, 2012
Removal of unwanted hair is an issue most women struggle with. The usual methods of plucking and shaving can cause ugly bumps or even nicks while more recent hair removal method like electrolysis can be very expensive, time-consuming and painful. Laser hair removal has shown to be a quicker and more efficient way of removing unwanted hair and keeping it from growing back.

Top Notch Laser Hair Removal Technology.
While laser hair removal is a popular procedure with places allowing its unregulated use, there are still differences among laser hair removal treatments. Los Angeles laser hair removal provided by Flawless Laser Center makes use of the industry's premier laser equipment, the GentleLasePro. Unlike other machines, the GentleLase Pro can handle hair removal on all skin types while almost simultaneously providing cooling protection.
The GentleLase Pro operates with elōs technology which uses the combination of radio-frequency (RF) and light to target the hair shaft and follicle while leaving the surrounding skin free from potential harmful effects. Aside from being able to remove hair from different skin types, it can also remove hair of different colors. In the hands of Flawless Laser Center experts, this technology ensures the safest and most effective way of removing unwanted hair that uses fewer treatments and results to smoother, less irritated skin, than other treatments.
Prior treatment, the laser experts assess the client's skin to make sure that the right approach to hair removal is used. Once ready, the GentleLase Pro is used to cool the skin in preparation for the laser treatment. The laser then preheats the hair follicle with the RF and light energy working to attack the hair shaft and follicle. The first session of the laser hair removal takes the visible hairs first and the inactive hair follicles will be deactivated only when it starts producing hair. Since all of the follicles do not produce hair simultaneously, the complete hair removal will need around four to seven treatments at 4-6 weeks interval which is still relatively shorter given the long term benefits. It is so safe that as soon as the procedure is finished, the client can carry on without any down time.
Aside from Flawless Laser Center's expertise in the field of laser hair removal, clients can take advantage of the center's variety of services such as dermal fillers, facials and botox in Los Angeles. Renowned doctor Armen Kazanchian as well as Board Certified advanced injector Pawnta Abrahimi ensure clients get the best dermal care from Flawless Laser Center. With their motto being "Come gorgeous, leave flawless," expect Flawless Laser to be able to improve on all skin needs.
For those seeking for the best Los Angeles hair removal service, the number to call for Flawless Laser Center is (877) 708-9220. More information on spa and laser treatments services are available at http://laser-hair-removal-los-angeles.com/. Free consultation is available both by phone or in office. For the first laser hair removal treatment, mention the 30% off special to get the discount.
(877) 708-9220
http://laser-hair-removal-los-angeles.com/
tusana.net