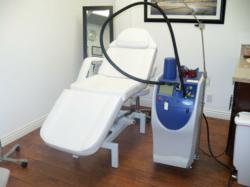 Come Gorgeous, Leave Flawless! Call Flawless Laser Center for a free consultation. 877-708-9220
Los Angeles, California (PRWEB) October 15, 2012
Although laser hair removal treatments are an FDA approved method for permanent hair reduction and not removal, they are still known to be the most effective and convenient hair removal treatment. In most cases with multiple treatments individuals are able to remove most of unwanted hair and might only require one maintenance session per year.
How Does It Work?
elōs™ technology used by Gentlelase is the first and only technology that uses combined energies to effectively and gently remove unwanted hair of many colors and types from all skin tones. elōs is the next generation of safe and effective laser hair removal technology.
The GentleLase Laser Hair Removal Products penetrate the hair follicle with light energy, destroying its root while preserving the surrounding skin in 3 steps:
Step 1
Contact is made with skin and cooling begins
Step 2
Laser pre-heats the target
Step 3
RF is drawn to the pre-heated target deep inside the dermis and both energies work to
attack both inside and outside of the target.
The first session of laser hair removal targets the hairs that appear on the body and removes them, but hairs that are in the inactive phase wont be targeted until the inactive hair follicles start producing hair. Since not all of the hair follicles produce in the same cycle, four to seven treatments are necessary at 4-6 week intervals. All inactive hair follicles will eventually produce a hair that can be targeted and removed by the laser. The laser hair removal method is non-invasive and saves you from wasting countless hours shaving or waxing that must be repeated often.
The Areas That Can Be Treated For Laser Hair Removal In Los Angeles:
Multiple technologies for treating unwanted hair growth on all body areas including:
Facial: Upper Lip, Cheeks, Chin, Neck
Body: Chest, Abdomen, Arms, Under Arms, Shoulders, Bikini, Legs & Back
The benefits of laser hair removal:
Laser hair removal can make a tremendous comfort and freedom from shaving, waxing or any other hair removal method currently available. While laser hair removal might not get totally smooth and silky forever, hair should be less noticeable and require less shaving or waxing, and for those individuals that have more resistant hair growth, by doing a maintenance session once a year, they can keep the hair regrowth to minimal or even no regrowth at all.
Depending on the type of laser used, hair can either be continually shaved, including the day of treatment, or only require a few days worth of growth.
Laser hair removal treatments are not time consuming as opposed to electrolysis. With laser hair removal, large areas can be treated all at once, where as electrolysis requires each follicle treated individually. A laser treatment done on the full back takes about an hour, and for smaller areas like upper lip it would take as little as 5 minutes.
To choose the right treatment for your hair and skin type, call Flawless Laser Center at 877-708-9220 to set an appointment for a free consultation. To learn more about laser hair removal and other services offered by Flawless Laser Center visit http://flawlesslasercenter.com
877-708-9220