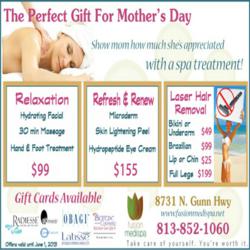 Choose From A Laser Hair Removal, Sun Damage Microderm or Hydrating Facial Treatment, As The Perfect Gift For Mom
Tampa, Florida (PRWEB) May 10, 2013
The coming of summer is on everyone's mind in the Tampa Bay area. With so many choices of white sand beaches to enjoy, the next few months promise to be pleasant ones. Your body has to be ready for the beach, which means taking care of that unsightly hair. One must think about all that sun exposure also, which comes with it some level of skin damage. No need to worry though, as Fusion Medispa offers products and services that effectively solve each of these concerns.
One of the Mother's day treatment specials at Fusion Medispa is a gentle hydrating facial. Mom will be ready to go out with confidence after this treatment. What's more, the treatments and products available at Tampa's most trusted skin care lounge are excellent resources for the best sun protection products available on the consumer market today. When Mom visits this medical spa, she will be given friendly, expert advice on which products will work best for her.
"We try to personalize every visit for every client, and that includes going beyond what would ordinarily be a laser hair removal appointment, because to our customers, it isn't just an appointment. The customers trust us with their skin, and with their bodies. We believe in showing our appreciation for this trust by connecting with them on a personal level, and by offering our expertise. We provide our experience and knowledge in recommending any service or product, like a laser hair removal treatment or sun protection product, which include OBAGI, Hydropeptide, and Clear Choice products. That's why we routinely lead our competitors in both customer repeat and new visits," a company spokesperson explained.
The skin care lounge is most noted, not only for its superior level of service and personalized attention, but for its ability to deliver more of the services that their customers want when they visit. The facility is a tranquil one, yet lively. When customers walk into Fusion Medispa and Skincare Lounge, they instinctively know they will be the center of attention for the duration of their visit.
"It's no small part of our success, catering to customers. We understand that individuals have many other choices out there and have made a decision to come here rather than go there. That's why we only have the highest qualified, most personable staff. It makes the whole experience that much better and our customers thank us with their repeat business and referrals," the spokesperson added.
For more information about Fusion Medispa Laser and Skin Care Lounge's laser hair removal specials and hydrating facial services, interested parties can phone 813-852-1060, or they can also visit the company directly at 8731 N. Gunn Highway, Tampa, Florida. More information is likewise available via email at fusionmedispa(at)gmail(dot)com.